How To Speed Up Your WordPress Website?
Back in 2010, we've published a great article on How to speed up your website. This article focuses on speeding up WordPress.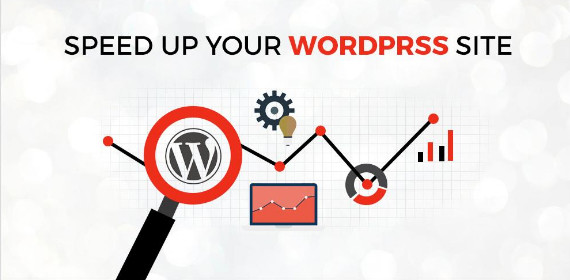 WordPress is a great platform, but one weakness it suffers from is speed. Without proper precautions, it can end up being a slow and sluggish website. This would lose subscribers and potential clients.
The Need For Speed
The need for speed is relevant for every aspect of our life. When a visitor comes to your website, you have only a few seconds to capture their attention. If your website takes a long time to load, the people will go away, and would not prefer to visit your website ever again.
Did you know that the web pages should load within 2 seconds or less? Every second counts when we talk about the loading speed of your site. Faster loading time improves your website's search engine rankings.
Here are a few simple tips that can help you speed up your WordPress website:
Use a Great Caching Plugin
If you have static images, CSS and JavaScript on the site that do not change regularly, browser side caching can be helpful to make your website load faster.
Caching involves storing some parts of your website and so, they will be loaded once instead of every time a user visits your website. Caching can be a good option for your return visitors and for the others who visit several pages of your website.
W3 Total Cache is a popular WordPress plugin that is used by websites such as Mashable, Smashing Magazine, and Web Designer Depot. This caching plugin ensures a 1o times improvement in overall website performance when installed properly.
WP Super Cache is considered to be a user friendly alternative to make your WordPress website load faster.
Servers and Hosting
Some beginners make the mistake of selecting a cheaper hosting solution. Your server is one of the important components that determines the speed of your WordPress site. Invest in proper hosting and server to make your WordPress website fast. One easy thing to enhance speed is cloud servers, you can select cloud hosting like DigitalOcean to improve overall page loading speed. While choosing hosting, make sure that the service provider offers great support as this would ensure minimum downtime. Read the reviews online and look for provider that offers "unlimited" bandwidth, emails, space, domains, and more. 
Choose a solid Framework
Unfortunately, all WordPress themes are not equal. Some of them are extremely fast and well coded, while a few others may be bloated with too many features. It is important to check the page speed while choosing a theme. Pick a theme/framework that doesn't slow down your website with the use of excess plugins or edits. Using lightweight themes like WordPress' default themes can be a good option. You can make some changes to the WordPress theme to avoid bloating.
Compress Images
Images are the largest files on your website and so, if they are not compressed, they can have a negative impact on your website's loading speed.
WP Smush.it helps in stripping meta data from JPEGs and removes unused colors from indexed images.
Tiny PNG is another plugin that can help you strip unused colors.
You can use the Lazy Load plugin to only load images above the fold when a new visitor arrives at your website. When the user starts scrolling down the page, the images load. This trick not only helps to speed up the page, but also saves bandwidth for the users who do not scroll the entire pages of your website.
Use CDN
Visitors browsing your website come from different locations from all over the world. The loading speed of the website can be different if the visitor is situated far away from where your website is hosted. There are several CDN (Content Delivery Networks) that help in maintaining minimum loading speed for the visitors. MaxCDN and Cloudfare are the most popular CDN services. Installing these CDN can make your website faster and improve user experience.
Choosing the right plugins
Some WordPress website owners and developers install a lot of plugins and this adds a great amount of junk to your website. It is advisable to uninstall the plugins that are not needed. The best option could be to audit your WordPress website and remove the plugins that are unwanted.
Decrease image sizes
Images on your website play a major role in the size of your webpage. It is advisable to reduce the size of the images used without impacting its quality. This can be done manually or by using plugins. Do not forget image optimization to speed up your WordPress website. There are several image editing software to help you to save optimized images on the website without compromising on quality.
Disable pingbacks and trackbacks
Pingbacks and trackbacks are two major WordPress components that notify the web owners whenever your web page or blog gets a link. If you keep Pingbacks and trackbacks on, it can put unwanted strain on your server resources. Hence, turn it all off and this will speed up your WordPress website.
Wrap Up
The major advantage of reducing your WordPress website's loading time is that it improves user experience of the visitors. It will also help to improve the rankings in the SERPs.