>
>

Computer Science: Why a Degree is Worth it in the Long Term
Computer Science: Why a Degree is Worth it in the Long Term
In an ever-changing world of tablets, smartwatches and other new technologies, a computer science degree is becoming more and more useful – especially for those graduates who are looking to enjoy a successful long-term career in the digital sector.
And with so many unique technological companies now on the corporate ladder, computer science degrees are a lot more popular; making it much more difficult for those who don't have degrees to secure employment.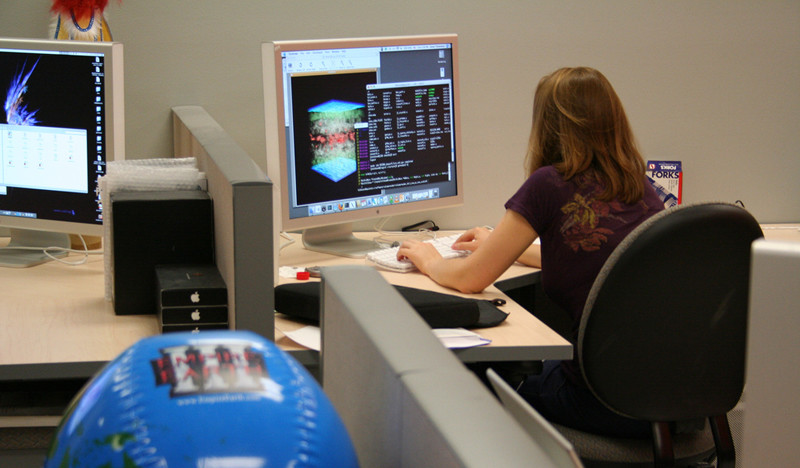 Computer Science Professors and Students CC BY 2.0 by UC Davis College of Engineering
While most employers won't necessarily ask you to follow protocol or techniques that you have acquired during your university years, a computer science degree can help to prepare you and give you a more rounded knowledge of the basics such as coding, programming and analysing complex technological systems.
It would be unfair to suggest that none of the skills you learn on a computer science degree at university are essential but employers then tend to tailor and tweak them to suit different needs depending on your position.
According to a survey conducted by Voucherbox, science-related degrees cost around £9250 per year on average. Most computer science degrees are tailored to provide approximately 15 hours of lectures, seminars and tutorials a week, which averages out to £20.50 an hour during the 30-week academic year.
Ultimately, this may seem expensive but a computer science degree could considerably boost your salary and many computer software engineers earn more than that when you break down and analyse hourly rates.
The 18 highest-paying industries for #tech professionals | https://t.co/XVRDR7tVEN

— Arjen van Berkum (@arjenvanberkum) February 3, 2016
As the embedded Twitter link above shows, a computer science degree can help you to earn decent sums of money – and this may convince you to go through with studying a four-year course in order to hone in on your skills. Indeed, computer software employees were the sixth-highest technological earners in 2015; earning 5.6% more than they did in 2014. While this study focuses on the United States, the general earnings are similar to that of the United Kingdom when you convert the currencies.
Computer Science Courses in the UK
The Complete University Guide states that the University of Cambridge is the best academic establishment for undergraduates looking to study computer science in the UK – not a huge surprise when you consider the stature of the institution and surrounding business parks. But unfortunately, not everybody can get the grades required to actually get in to Cambridge so we've looked at a different course that looks perfectly tailored to set young graduates up for employment or future education.
Newcastle University is rated as one of the top 20 universities for computer science but will still accept students with AAB, ABB or AAC at A-Level. With professional accreditation and real-life modules on computer architecture, operating systems and algorithm design, tech lovers can receive a broad range of information on upcoming technologies in order to ensure they get their £20.50 per hour's worth.
There are plenty of establishments that can offer a high standard of education for those looking to study computer science and you will be well placed to walk into a solid, steady position of employment after your three years at university.
Just remember, a computer science degree is worth it in the long term. It may not prove essential but it will benefit you financially over the course of your technological career…