Free WP Theme – The Garamond
Just got done experimenting with a theme. This time – no photoshop mockups are done; went ahead and dove right in coding. I ended up with a simple, non-graphic intensive theme. Named it after one of my all time favorite fonts – the Garamond.
THIS THEME HAS BEEN DISCONTINUED.
The Home Page
The Garamond's home page mimicks a magazine layout. This was made possible without any special wordpress queries, nor does it filter by categories. Instead, the latest post is automatically styled different. Thanks to this neat trick by Ruhani Rabin. The feature image and the thumbnails are automatically resized upon client request. Meaning, you can upload any size image (preferably wider than 540 pixels – which is the size of the container), assign it to a custom field – and voila! Images are cropped, zoomed and sharpened when once the browser hits it. The code I used is from Darren Hoyt known as TimThumb.
The Inner Pages
The Garamond is a bloggers theme. Traditional templates are intact: search, archive, category etc. I also included an authors bio at the end of each single post, as well as an author template which grabs all their articles. I went a little overboard in styling the subheadings for the post (shown below). The default font family used is of course – Garamond; although since it is not a standard font – Georgia is used as back up. The contrast between the larger text and the tiny Verdana is striking – which I felt was good.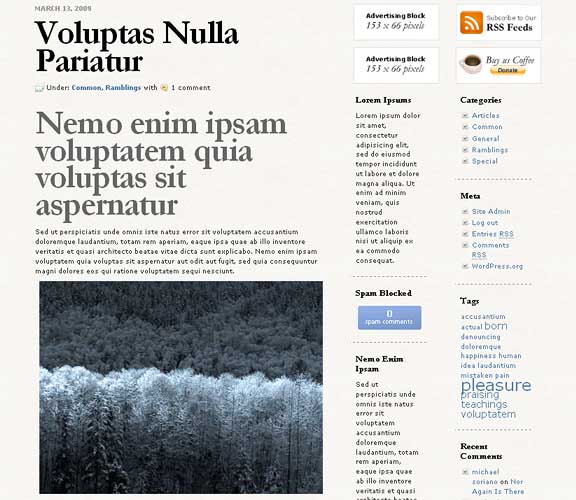 Other Features
The two sidebars and the footer are all widget driven. Comments support Gravatars, pagination as well as multi-level threads. I've also added a random quote container right below the header – which requires the Stray Quotes plugin by Italyisfalling.com