>
>

Why Should You Be a Google Trusted Store
Why Should You Be a Google Trusted Store
Without a doubt, Google's name and brand are among the most recognized in the world. An association with Google almost automatically guarantees consumer trust, because most people know about the company's stringent quality control procedures. If you're an online merchant, there are many compelling reasons to apply for the Google Trusted Store status. Thanks to a recent update, doing that is easier than ever. Keep reading to learn why attempting to give your store that designation is a worthwhile move.
The Process Doesn't Require Much Effort
Maybe you're hesitant to become a Google Trusted Store because you believe the application process would take too much time away from the other parts of running your business. Actually, applying for the program is neither hard nor lengthy. Keep in mind that if you don't meet a monthly order fulfillment minimum, or if you sell certain prohibited products, your store may not be eligible.
After reviewing specifics to make sure your store qualifies, you just need to take about a half hour fill out a form that tells Google about your store. You'll also need to add two bits of code to you website that tracks details about order fulfillment data. At this stage, you've begun the qualification period, and it usually takes 30-60 days to learn if you've been approved as a Google Trusted Store.
During the qualification stage, your customers have the chance to fill out a survey about their shopping experiences. Their feedback is part of the information Google representatives look over to make a final decision about whether you should be granted the privilege of becoming a Google Trusted Store.
Now that you know how the process works, let's look at some potential benefits.
It Gives You Added Marketing Muscle
Even if customers aren't familiar with the Google Trusted Store program, the implication that Google backs your endeavor speaks volumes. It also offers you a great topic for a blog post that can explain how your company qualified.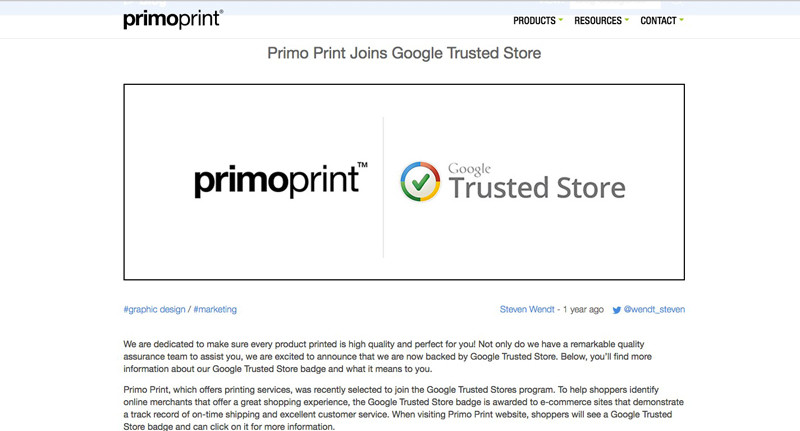 Take a look at how a printing company did just that with its blog. The themed content, along with the large banner that features both the Google Trusted Store logo and the company's logo, is very eye-catching and makes people want to know more.
You Can Call More Attention to Your Store in Search Results
Being backed as a Google Trusted Store also lets you clarify that distinction in search results. Even if you're well versed in SEO practices, you may constantly work hard to make your store's webpages as visible as possible in search engine result pages. If you use Google AdWords and buy paid advertisements as part of your marketing plan, those ads can include text that indicates you're a Google Trusted Store.
Look at how ProFlowers, a United States-based company that sells fresh blooms and ships them to consumers' doorsteps, utilized its Google Trusted Store status in a paid advertisement: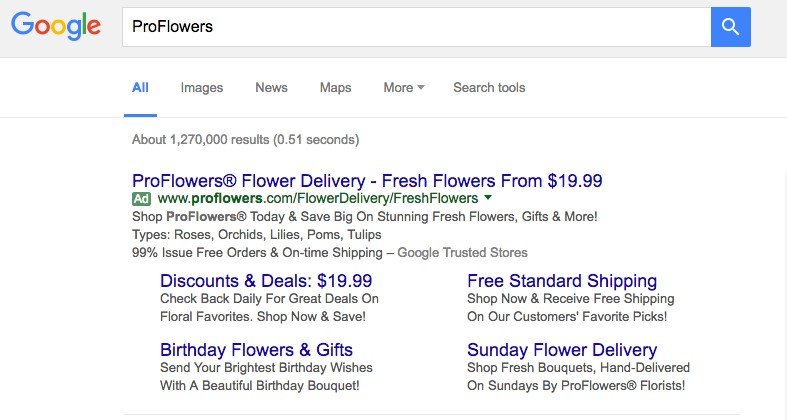 Because Google tracks data related to customer satisfaction and order problems, it can verify not only that ProFlowers is a Google Trusted Store, but also that more than 99 percent of the company's orders are filled without a problem.
A customer who's casually browsing through search results might not know exactly what it means if an online merchant is a Google Trusted Store, but that high hassle-free order fulfillment percentage is impressive in itself, and potentially strong enough to make the customer click that link rather than another one.
It May Help You Tackle Shopping Cart Abandonment
Online merchants constantly work hard to reduce the rate at which customers abandon their online shopping carts. However, there's still a lot of work to do, since recent statistics indicate customers leave their carts behind without purchasing something in nearly three-quarters of all instances.
CJ Pony Parts, an online retailer specializing in automotive parts, includes the Google Trusted Store badge in its footer, which is visible when a person is viewing their shopping cart. Although there are indeed many factors that may result in a person deciding to not go through with a purchase, the presence of that small but meaningful graphic may be just the thing to remind someone your online store is trustworthy and deserving of patronage.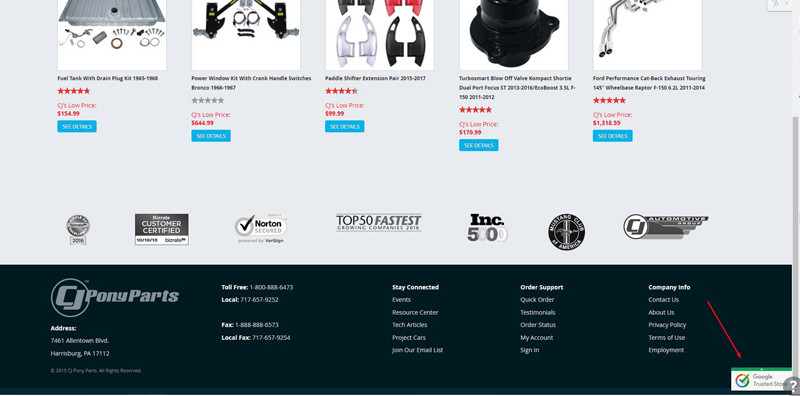 You Can Encourage Confidence
When spending their money, customers understandably want to feel like there's a good chance they'll be receiving high-quality products from a company that genuinely cares about making them happy. As a Google Trusted Store, you enable customers to take advantage of complimentary purchase protection up to $1,000. That's an indication Google stands behind the company and whatever products someone bought, and will provide help when necessary.
There's also another way to help people feel at ease about what you sell, particularly if your online business operates as a franchise. ZAGG is a technology company that got its start selling screen protectors, but eventually branched out to offer items that let people get more use out of their mobile devices, such as tablet keyboards, battery packs and wireless earbuds.
It also has franchised retail locations through the United States, Canada and Puerto Rico. Strategically, like the CJ Pony Parts example above, ZAGG showcases its Google Trusted Store badge in the footer of its website, except in this case, near the section for potential franchisees:

The fact that ZAGG is a trusted store as far as Google's concerned could help a person who wants to become a business owner feel the products they might eventually sell are more worthwhile than they'd be without Google's support.
Now that you've had time to look over some examples of Google Trusted Stores and how those shops use the title as a marketing tool, hopefully you have a greater understanding of what being categorized as this type of store means for merchants. And considering that Google is already a trusted name online, your business could benefit from being recognized as a Google Trusted Store.