5 Easy Tips to Get Started with Travel Photography
Whether you are an experienced photographer or you are just starting out, travel photography can be a great niche to explore and excel in. Besides the fact that a photo is arguably the best souvenir to bring back home from your local and international travels, travel blogging can also be a lucrative niche to be in, such is the demand for travel these days. Here are five easy tips to get you started with travel photography.
1.  Start a travel blog/portfolio site
Starting a travel blog is the most important step. Through the blog, you will share your travel photos as well as post details, guides, best of articles and other information about the places you visit.
The blog will help you build an audience and as the audience grows, you can eventually monetize the blog, through advertising or affiliate offers.
Some travel bloggers have even landed book deals just because of the blogs they run. Your blog might start out as an expense but it has the potential to eventually fund all your travels in the future.
Content Management Systems like WordPress have made creating blogs very easy. You can actually get setup without having to hire a web designer.
Just look for a good domain name, get a reliable fastest web host after you've read a bunch of hosting reviews such as this one here on CollectiveRay.com, and use automated WordPress installing scripts like softaculous.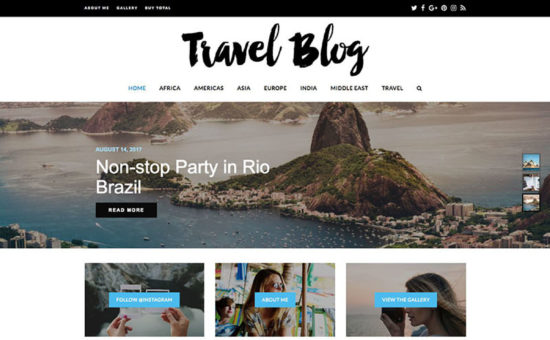 Your web host will give you access to these scripts. Once you have installed WordPress, you can select a good WordPress theme which is focused towards photographers and customize it as you want and you will be good to go. If you have some money to spend, you can hire a graphic designer to make for you a custom logo for your blog.
Apart from sharing photos and blogs, the other advantage of starting a travel blog is the professional email addresses you will get with the domain. These will come in handy when you need to send a business inquiry that is related to the travel photography blog. Usually, companies take you more seriously when you use domain emails as opposed to using free email services like Gmail, Yahoo, and Hotmail.
Do not make the rookie mistake of relying on Instagram to share all your content. There is a lot more you can achieve with a website. Social media has an important role to play but you must also create exclusive and awesome travel blog content to complement your social media accounts.
2.     Invest in some decent, but not terribly expensive gear 
The next most important thing is getting the right gear. It's not important to get the latest and greatest equipment, even 2nd hand equipment from professional photographers could do, but do get some good stuff.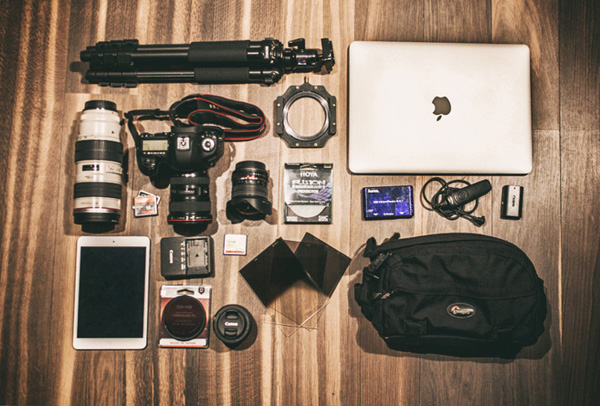 As a bare minimum, you should have some equipment for taking the right photos using the correct setup. (Side note: insure the equipment for theft. This way, you will not have to start worrying about purchasing new equipment if you lose them when traveling.)
The following is a list of the basic equipment you need to invest in.
Semi-professional camera
You do not have to break the bank in order to get good photos. Contrary to common belief, an expensive camera doesn't necessarily mean you will have awesome photos.
Other things like composition, focus, creativity etc. play a vital role.
You can start with a basic DSLR camera and think of upgrading it as your blog grows. Even though a professional camera goes for at least $3,000, you can still get a good one to begin with for less than $500, if you look for 2nd hand items from professional photographers how are upgrading. Of course, do make sure you buy a DSLR camera and not the traditional compact camera because you can upgrade the lens of a DSLR camera when you get the money.
Lenses
For a start, go for a lens in the 24-70mm range because that will give you great focal length range. Such a lens will help you capture both portrait and landscape shots. If you are on a small budget, this lens should be enough for all your travel photography needs. In fact, you can just go for a camera that comes with this lens as a bundled deal. With time, you can add a 70-200mm lens just to give you an even wider range. If you're going for street photography, especially at night, you can opt for a cheap, prime lens, such as a 50mm
Tripod
Travel photography often needs shots with low shutter speeds. This makes a tripod an important accessory because you may not be able to hold the camera steady for a long time. Additionally, when you use a tripod, you get more time to compose and think your image through rather than just randomly snapping away. Carbon fiber tripods are a great pick for travel photography because they are very light and yet stable.
Camera bag
A camera bag is another must-have accessory. The bag will keep your delicate equipment safe when in transit as well as when on location. The most ideal camera bag will depend on the kind of travel. For instance, the bags that are better equipped for hiking might be too big for walking with in the city. Obviously, the prices differ just as much.
3. Take a 365 challenge 
Now that you have your gear in place, it is time to start honing your skills and the best way to get started is to take a 365 challenge.
You will be committing yourself to take and post 1 good photo every day throughout the year.
This will give you a chance to always use your camera and you will learn a lot of things in the process of practicing to get a great shot everyday.
If you commit to sharing this on your social media, you'll be making it tougher for you, because you're out of your comfort zone and now need to commit 100% – but this is what will push you to grow.
Additionally, using the camera on a daily basis will make photography a habit and a commitment. The daily challenge will open your eyes to the photography moments around you that you would have missed.
The challenge will also push you to experiment with other styles and methods of photography. For instance, you might be forced on one late night to look for something to photograph before the day ends in order to keep in step with your daily commitment.
You can use a calendar of ideas to help you with the topics.
4.     Join niche travel and photography Facebook groups 
Birds of the same feather flock together.
You will reap a lot of benefits by joining a Facebook travel photography group. For starters, you will network with other travel photographers and bloggers in your area. There is a lot you can learn from the more experienced photographers in these groups including how to grow the blog audience, best locations to visit, how to take captivating photos, etc.
You can also forge meaningful partnerships with the people you meet in these groups. For instance, you might find like-minded photographers that you can collaborate on a challenge or a joint project.
5.     Focus on a niche, street, portraits, sports 
Before embarking on your photography journey, it is a good idea to focus on one niche. There is a general misconception that any photographer can take any type of photos.
While there is some truth in that, the most accomplished photographers are the ones that have specialized in certain fields like sports, wildlife, streets, buildings, etc.
You might also be interested in: Getaway Locations for Designers.
When you focus on one niche, you become very good at it and eventually, you will be known for it. One easy way of knowing your niche is to use the 365 challenge to filter out the options you have.
As you take more photos for the challenge, you will easily realize that there are some photos that exhilarated you even as you took them. It is always a good idea to settle for a niche that you are passionate about it. This way, you will never grow weary of the camera even before you start earning a significant income from your photography. Eventually, the money will follow the passion.
Wrapping Up
Finally, start where you are with what you have. Procrastination is the main reason behind many unrealized dreams. Stop waiting for what you do not have and just start with what you have. For instance, if you cannot travel overseas, start by traveling locally. If you have not yet bought a camera, start by using your smartphone. Travel photography needs momentum so do not waste time procrastinating waiting for everything to perfectly fall in place – just start where you are with what you have.