>
>

What Your Company Website Is Begging for in 2018
What Your Company Website Is Begging for in 2018
As we head into a new year, it is a great time to take stock of your current website and figure out what might make it even better in 2018. About 77% of design agencies state poor company website UX as a major weakness for their clients. There are also many other factors that come into play that indicate whether users will stay on a page or bounce away to the competition.
Here are six top things you should implement in 2018. These are a great place to start when doing any type of redesign this coming year, but you'll also want to stay on top of the trends and watch for other opportunities to create the best user experience possible.
1. Update Your Design
When given the choice between something with a simple design and something with a beautiful design, nearly 70 percent want beauty. Of course, every person has a different view of what is beautiful. You have to balance the aesthetics of the page with how fast the page loads and where you want the user's eye to track.
Your first step should be to look at current design trends, such as obstructed text, videos and minimalistic designs. You can then apply elements from these trends while still keeping the focus on your sales funnel. Don't forget good, basic design do's and don'ts, such as allowing enough negative space on the page to make it visually pleasing.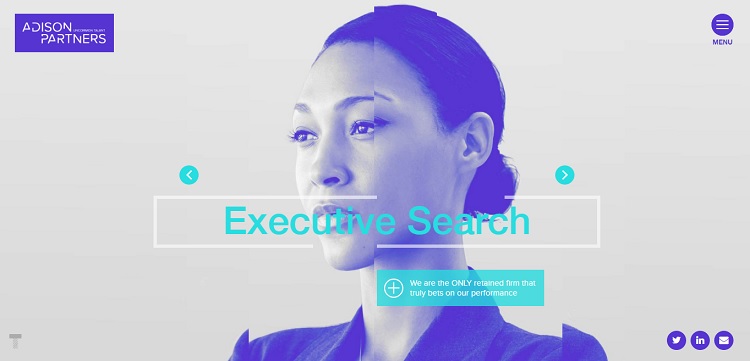 Adison Partners offers a look at how you can implement design trends, and more than one at a time, but still keep the focus on where it needs to be. Note how the elements drop in, the text is slightly obscured, yet the page still has a very basic, minimalist look and is not so busy as to be distracting.
2. Engage With Videos
If you haven't added video to your website, 2018 is the perfect time to add this element. Videos are highly engaging, and users tend to share videos on social media. Consider, for example, using a video testimonial, which have an 89% effectiveness rating. They are 40 times as likely to be shared on social media platforms. Adding video is just a smart strategy.
However, you'll want to make sure that the video is professionally done. Adding a video that looks like your three-year-old filmed it isn't going to impress anyone. Take the time to think through your audience and the best way to present the testimonial or business element you'd like to engage your audience with.
3. Sliders for Product Sales
If you sell any type of product, then adding a slider is a great idea. Note that you can feature the most exciting products in your lineup. As the user looks at the landing page, the landscape of the page will change as the slider cycles through the products or people using the products. This engages the user, allowing them to imagine the different possibilities with these products.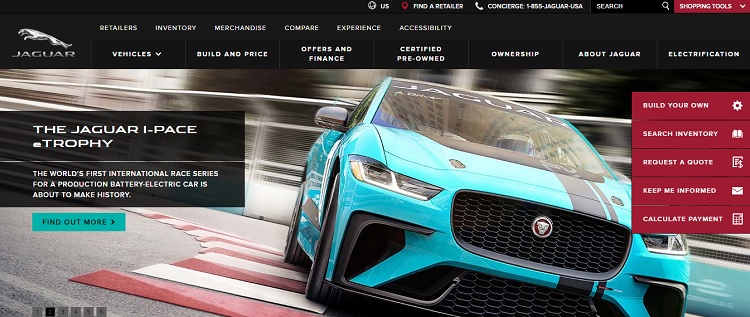 Jaguar does a good job of this with its landing page. The slider starts with what's on sale and cycles through some of the more exciting models the company has available. The slider also features different types of vehicles, so it will appeal at one point or another to the different visitor personalities who land on the page.
4. Mobile Responsiveness
You've heard this over and over again, but making sure your site is responsive to different screen sizes makes sense. The trend of people using mobile devices to access the internet has increased steadily year after year. In fact, desktop Internet usage is decreasing. Between 2013 and 2015, it dropped 1% and the trend continues.
You might also want to read these tips on building a responsive website.
While the drop in desktop usage is slow, the rise in mobile usage is not. In 2018, Americans are predicted to spend about three and a half hours a day on mobile media devices. If your site isn't fully mobile responsive, now is the time to ramp up that ability.
5. Speed up Image Loading
There are some things that never change, and having a site that loads at the speed of light is still a goal for many. And with good reason. If images take too long to load, about 39% of people just stop engaging with that site. Many won't return, either. Take the time to reduce the size of your image files, convert to CDN delivery, and pay more for a faster server.
Think about some of the larger websites out there and how quickly they load. Likely it is so fast that you don't even notice any type of delay whatsoever. Amazon found that if people had to wait just one more second for pages to load, the retailer would lose $1.6 billion per year. People are even more likely to bounce away from a smaller, lesser-known company for slow speeds.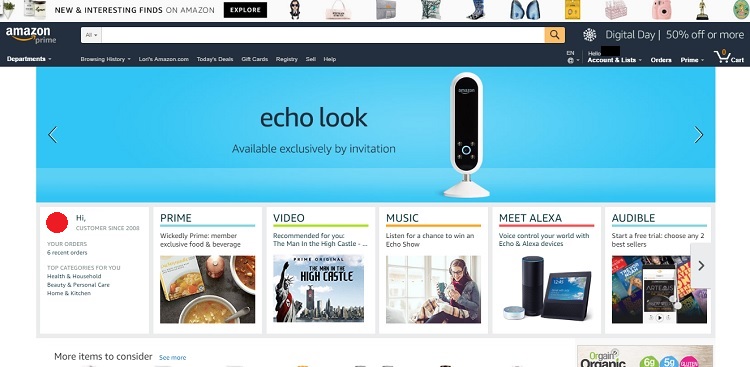 Here is a screenshot of Amazon's landing page. Visit the site yourself and see how quickly different product pages load.
6. Add Some Personality
With so much time spent focusing on better user experience and updated designs, it can be easy to lose the overall personality of your company in the mix. However, people love a good story, and they really do like to know more about you as a business owner. About 51% of people also think contact information is missing from many websites and is vitally important. People want to know who they are doing business with. It adds a level of trust to the transaction.
Adding these six elements in 2018 will take your website to the next level. However, don't stop with these six changes. Continue to look for ways to improve the experience of users on your site. Updates aren't just something you do once a year and then walk away from. Your website is like a living, breathing organism that should change and grow as your business changes and grows.