The Untapped Potential of Mobile Game Design
There is clearly a huge market for mobile games, so why are we stuck with rehashed versions of Angry Birds, Tetris, and Solitaire?
Last summer, PopCap (of Plants vs. Zombies fame) asked research group Information Solutions to find out how many people were playing mobile games—and the results were staggering. A total of 44% of adults (just adults) were playing mobile games at least semi-regularly. Nearly half the adult population of the United States and the UK is gaming, and we can only assume the adolescent population is significantly higher.
The Power is Available
While early smartphones had extremely limited processor power, mobile devices have been capable of cranking out high-resolution 3D graphics for at least 2 generations now, and the Android world has evolved leaps and bounds as well. Last year's Samsung Galaxy S3 sported an HD screen, a dual-core processor, a very capable GPU and an astonishing 2 GB of memory.
This year's model is more powerful than half the PCs in most people's homes, as one of its available processors is an 8-core CPU clocked at over 2 GHz per core, with a 1080p screen! Apple will continue to boost its mobile power with the A7 processor in the iPhone 5s, with a quad-core CPU and GPU. Nvidia's contribution to the race is the Tegra 4, another quad core CPU mixed with a GPU that contains 72 custom cores.
What are we missing?
Some developers have noticed the massive increase in power on the small screen and have begun to design games that capitalize on all that power. EA's Real Racing 3 is available now in the Play Store, boasting graphics on par with first-generation Xbox 360 and PS3 racing titles. Other developers are beginning to release some beautiful content, but that's not the only thing missing; mobile gaming won't come into its own until we see innovative, gimmick-free controls that take advantage of the mobile interface. Tilt controls had a certain novelty cachet at first, but rarely add much to games and can often be distracting. There are mobile game pads, but they don't work with all devices and games, and they often run for $50 or more.
We also are seeing a lack of local head-to-head availability in games. WiFi networks are everywhere: schools, restaurants, buses and church. Why don't more games take advantage of free networks, and allow people to play RPGs, Racing Games, or even Pong against people they are right next to? Mobile design has trended toward casual gaming so far, so let's make multiplayer games easy and casual. Who wouldn't want to play Super Smash Brothers against everyone in their morning algebra class?
Nvidia pushes Project Shield
Nvidia has noted the gaps left by mobile developers, and created its own Android mobile gaming device. It looks like an Xbox controller attached to a 4-inch 720p screen, and can hook into your Google account to play your normal Android games; you can also connect to Steam to remotely access your computer via WiFi, and play any steam title you own.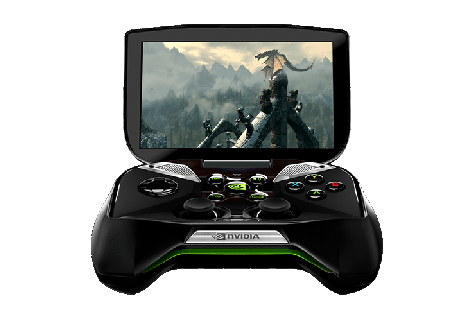 It's not clear whether Project Shield will be a success—it's a niche market, as most hard-core gamers interested in a device like this already own one or more consoles, a high-end desktop, or one of the best laptops currently on the market for graphics-intense games. Casual gamers will likely balk at what a premium $400+ price tag. The ideas in Project shield are great but it raises the question: why haven't we done something like this already, with all of these phones and tablets that are nearly as capable as Nvidias new device?
Looking ahead
Developers owe it to themselves to take a hard look at this giant group of people who play mobile devices, and look beyond the endless tower-defense, color matching, fowl-launching, farm-tending dregs of code currently being shoveled. The UK spent over £300 million on mobile games last year. That's close to half a billion US dollars, for stuff like Bubble-Burster. When mobile game design finally grows up, the sky is the limit.