High Quality HTML and PSD Porfolio template – "Sifiso"
This time around I'm selling a gorgeous HTML template with the Photoshop files for "Sifiso". Sifiso is a one page "portfolio-like" template which you can use for your personal site. It features bold colors, transparent elements as well as hard to miss extra large icons. Sifiso is ideal for web designers, illustrators and photographers; You can use Sifiso as a final product for your own site, or as a good starting point for your clients. Sifiso costs $5 FREE! – for both the PSD files and source code
Features
The one pager Sifiso has all the right stuff for a strong personal portfolio:
a catchy introduction area – a sexy summary of what you do. You have to edit the text in the PSD to change this section
a testimonials section – sport what your clients say about you. Simply edit the text inside the p tags in the HTML
a spot for quotes – maybe a couple of words from famous people in your industry, again – open the PSD to edit this area
showcase area – screenshots of your best stuff, add your own pictures and edit the HTML.
finally, a contact form – how else will they get a hold of you? This will have to be done in a server side language of your choice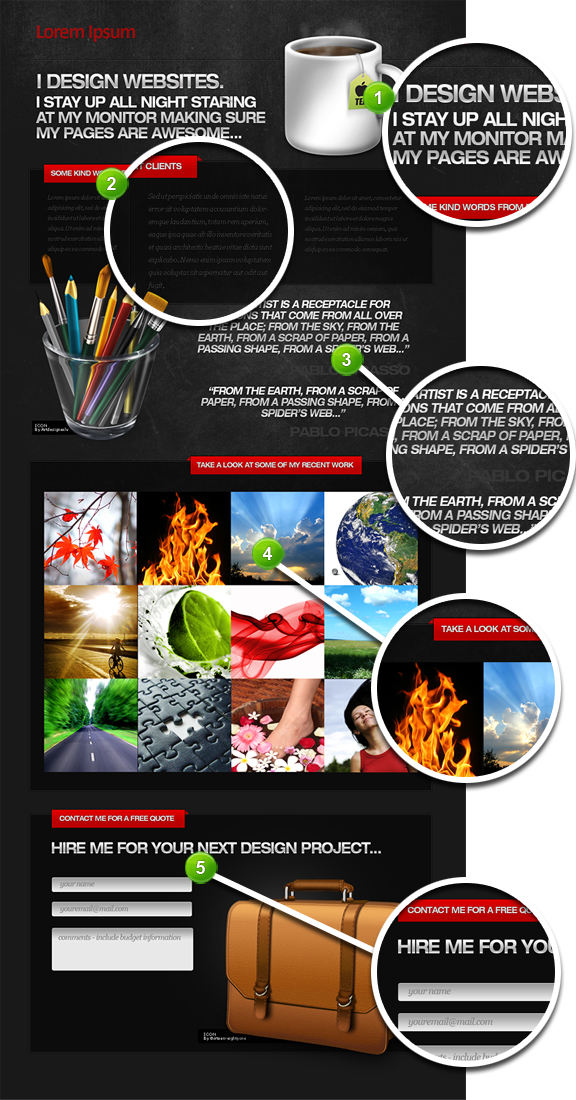 How to Edit
The source code is very pretty straightforward – simply edit the HTML with your own. The PSD contains 4 files – one for each main section of the page. All files are layered, grouped and labeled. To edit a text section – find the layer and edit the text within. Fonts used are "AR Blanca" (for the logo), and "Helvetica Nueu LT Std" for everything else.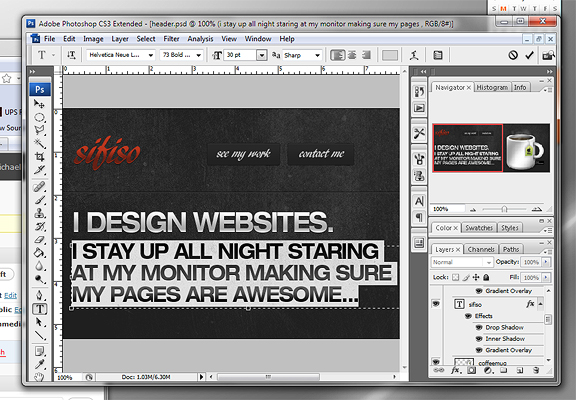 Conclusion
Keep in mind that even though Sifiso may be full of images, it is still coded professionally to conform to standards and SEO. I hardly used any "image" tags (except for the portfolio section), and still used HTML text where it should be (see screenshot below).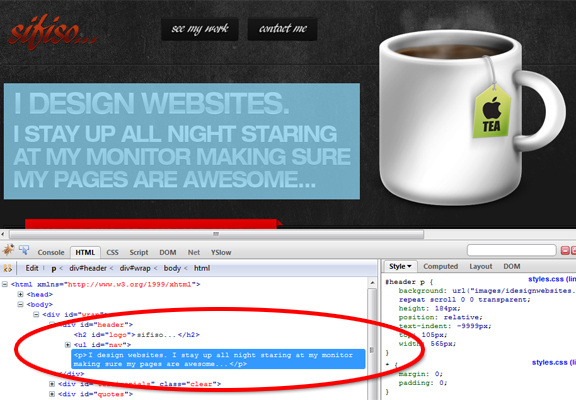 *Note that I talked about how to code this way in my 3 part post: How to create a single page portfolio from scratch.
Credits to the icon developers:Coffee Mug by Omercitin, Paintbrushes by ArtDesigner.lv and Briefcase by thirteen eightyone.