Free PSD – Medical Software Home Page
This week I'm giving away a PSD mock up for a potential client that I had a while back. The company is a Software Development Group for medical equipment inventory systems. They are responsible for developing systems for hospitals to be able to track their supplies. From bar code scanning, billing and sophisticated inventory tracking systems. The project failed – the client never did go forward with their web site redesign. Regardless, I hate to put my vision to waste. Don't get me wrong – anybody can put together a home page in Photoshop but that's not the part I'm feeling wasteful about.
UPDATE 3-2012: This freebie has been updated to a new version with HTML. More information in this
article
. I've disabled the old download and now purchase through
paypal
.
The project I envisioned was a full website turn around. The company was still using static pages with old style tables and in line styling. My proposal was to completely overhaul their site into WordPress.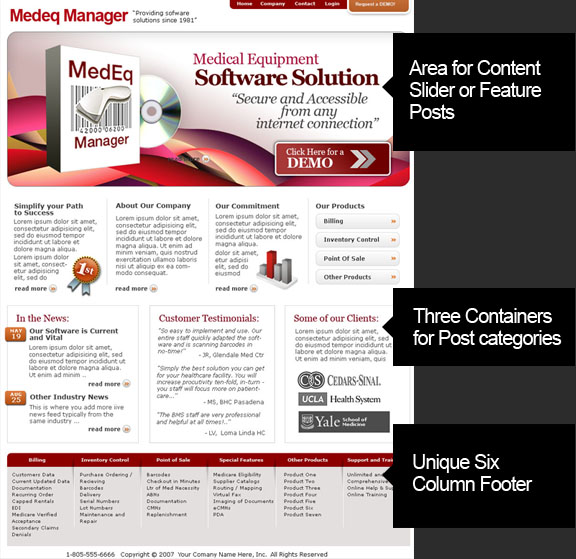 As you can see from above I planned on using WordPress as a CMS. A large section that will house a jQuery Content Slider or another form of slideshow that leads viewers to try out the demo. Directly below are a set of three column containers which will pull posts from different categories. A slightly different approach for the footer – which contains six mini columns as the main sitemap.