>
>

Feast your eyes on these Facebook Designer Templates
Feast your eyes on these Facebook Designer Templates
Okay, say you already have a kick ass website. Then you've decided to jump in the Social Media wagon – signed up some followers in Facebook – but your Facebook fan page can use some 'fixing up'. True that you can definitely hire a web designer to do a custom template for you – but that will cost anywhere from hundreds – even thousands of dollars!
This was exactly what Envato Marketplaces was thinking about and they've decided to hold a contest. A contest that yielded some of the most awesome Facebook templates money can buy. These templates are ready to use. Simply edit some static content, then slap it into your Facebook page – and instantly convert it from 'Snoring' to 'Adoring'.
On the same subject – check out this Facebook ad agency for your advertising needs.
Here are 12 Beautiful HTML Templates for your Facebook Pages:
True that these are affiliate links. But note that these templates are indeed striking. You can use them as inspiration, or as I suggest – use as is. Here we go:
Beautiful bold colors, slideshow, documentation – all PSDs are included for even deeper customization.
Ideal for portfolios, photography and showcases. Wowway has an elegant presentation that will make you go "Wow".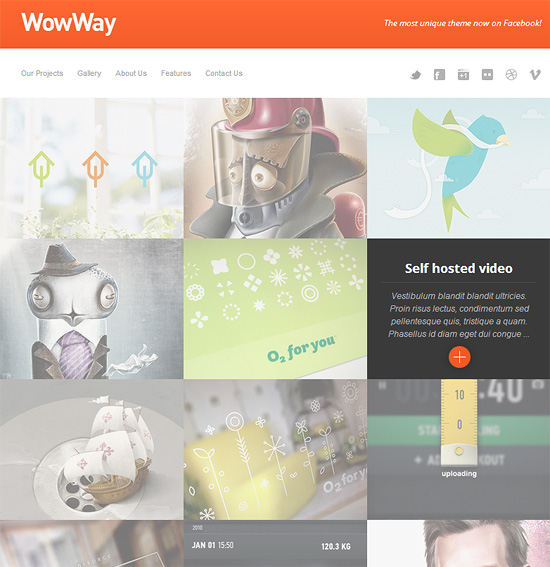 One page template that has nice features such as 5 color styles, jQuery slideshow, pretty photo, tabs and pagination.
Modern, sleek and stylish. Sacline is perfect for you company page that is branded professionally.
As the name suggests – perfect for business. Awesome tabs, colors, type and style. Good for agencies, firms and individual business people.
So this one is for showing off your phone app. Needless to say – its simply stunning and well put together. I'm sure it will spark your inspiration.
Silly name – but good looks. Very modern and clean. Easy to customize and a working contact form!
Nivo slider, cross browser support – elegant design. Corotiva template looks promising.
Different color styles, excellent slider, nice sleek controls. Your FB page will transform overnight!
Although not intended for FB – Remetro is compatible with it. Check out the hover effect and menu on this baby.
You gotta check out the transition effects on this template. Good color choice and beautiful typography.
Nice features such as Nivo slider, Google fonts and unlimited color choices. Ideal for just about any fb pages.
Conclusion
So there you have it. A prime collection of the latest and greatest Facebook templates you can own today. True that they're not free, but averaging around $12 each: you simply cannot get a better deal. 12 bucks! C'mon! That's the price of a double cheeseburger!
What do you think? Do you know of other sources for Facebook templates that are better that Themeforest? Do you think one should just invest in creating one on their own? Know of any good tutorials on how to create it? I would love to hear your suggestions and comments below.