Exploring Magento and why it's a good choice for your E-commerce website
You can observe continuous growth in the eCommerce sales. In fact, according to an online it is estimated that the global sales will reach up to 1.5 trillion in 2018.
So, if you're a retailer or the owner of an established brick-and-mortar store, then it's high time for you to take your e-commerce business online. Fortunately, there are many e-commerce platforms out there that can be used for creating an e-commerce storefront. But, among all Magento appears to be the most preferred and best platform for building an e-store.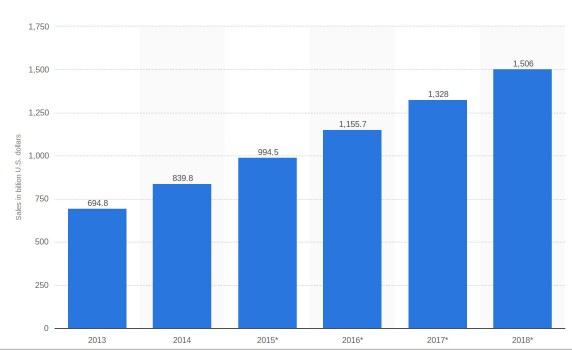 Magento: Facts and Statistics That Makes It a Preferred E-commerce Platform
So why Magento? Well, Magento has been one of the most popular e-commerce engine to date. It is filled with features and has a huge community for support. Below are a few stats that clearly show the increasing popularity of the Magento platform:
An analysis conducted by Aheadworks for 2015 displayed Magento's leading position worldwide, which was a lot more than other platforms.
According to builtWith, over 7,000 out of the top one million e-commerce sites are using Magento.
Based on the analysis of Internet Retailer (IR) 2014 Top 500 Guide, Magento is one of the leading providers to the "top 500 Internet retailers" located in the US and Canada.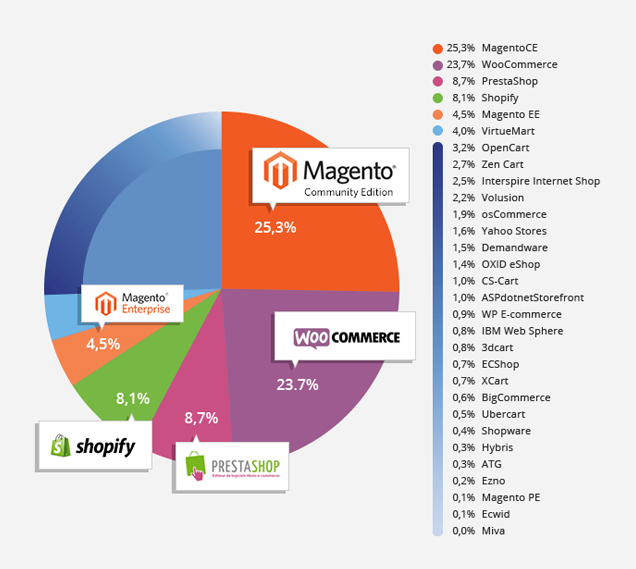 Still not convinced as to why you should prefer using Magento as your e-commerce platform? Below is a list of some great Magento features that makes it a viable choice for setting up a storefront:
1) It was Built For E-commerce: WordPress that has grown from a blogging platform to a complete CMS today, doesn't come with built-in e-commerce functionality. Though, there are plugins out there that can help in transforming your WordPress site into a fully-functional e-commerce store, but it still can't offer ecommerce functionality such as Magento platform. That's because, Magento was built mainly for e-commerce, unlike the WordPress platform. And thus, Magento comes fully loaded with a rich feature set that helps in putting up an e-commerce storefront.
2) Plenty of Customization Options: Magento will help you quickly build an amazing looking online store with enhanced e-commerce capability, thanks to the ample number of themes and extensions it offers. Besides, you'll get to access several in built customization options in a Magento storefront – that will help you customize your storefront based on your customers needs, thereby helping you deliver the perfect experience to the customers.
You also need to read "Does your E-commerce design follow these principles?"
3) Eliminate Compatibility Issues: Magento e-stores can be easily optimized for varied types of platforms, as well as, devices. This helps in eliminating the compatibility issues. Simply put, your Magento store can be accessed and viewed using any platform and device. Since your web store can be accessed by almost any device user, this will eventually help in expanding your reach to a wider audience base.
4) Allows Setting up Multiple Stores: Another excellent feature of Magento is its ability to manage multiple stores simultaneously using one admin panel. And so, you can enjoy the same comfort of making edits whether you're running just a single store or many different stores.
Furthermore, here are some more Magento features are:
Provide support for m-commerce
Contains a user-friendly and intuitive back end
Integration with third-party add-ons
Backed by large community of developers
SEO friendly
Many different shopping cart options, and so on
Types of Magento Platforms: Enterprise vs Community
Magento has two different editions available, namely: Community edition and Enterprise edition. Which one of these editions you should choose depends on your needs. Let us discuss about both the editions:
1) Community Edition
If you're tied to a limited budget, or simply want to create a Magento storefront for free, then Community edition is the best option for you. Created as an open-source software, the community edition can be downloaded without having to pay the licensing fee. Moreover, users have the freedom to make any changes to the code files as per their needs.
This Magento edition allows adding many different product options, such as product name, product cost, tier price, description (short and long), etc. What's more, since this is an open source platform, you can get access to unlimited support of the community. This Magento platform is ideal to be used by small businesses and mid-market merchants.
2) Enterprise Edition
If you can invest a few bucks, then Enterprise edition is worth trying because of the advanced features it offers – something that you won't get – when using the community edition. Of course, with the growth of your web store, you'll need to use additional advanced features that the free Magento version cannot provide. The base of both the Magento community and enterprise editions is same, however, the latter one comes preloaded with more functions to meet users' needs having different business requirements.
In order to make use of the Magento Enterprise, you are required to purchase its subscription plan that starts from $14,420 annually. The Magento enterprise edition is a good fit for merchants who need to handle a large product catalog. Unlike the community edition, you won't be getting unlimited support of developers when using the enterprise edition as it is not an open-source platform.
Conclusion
If you run an online business, but haven't yet created your presence online, then you must consider having your own strong online identity, by putting up an e-commerce storefront using the Magento platform. Here in the post, we've discussed about Magento as an e-commerce platform and its two different platforms, among which you need to choose one for creating a web store.
Don't forget to see our E-commerce icons that you can download for free!