Calling all Globetrotters! 6 things to pack while traveling solo
I love traveling. I don't love planning and packing for it. It can be even harder when the kids are involved. I've searched near and far for the best products on the market for traveling, whether alone or with a family.
Here's a list of several traveling products that I've used and found to be the most useful for my fellow globetrotters.
Kool8 Water Bottle
Who doesn't love staying hydrated? I know I do! Especially when traveling, it's easy to get dehydrated so having a special bottle can make a difference.
I give you the Kool8 water bottle. The modern, stylish, and durable water bottle. It's insulated to keep your liquids cool or hot, is easy to carry around, sturdy, tea approved, and temperature controlled. I haven't been able to find a bottle like this one. It is great for travel and comes in several colours.
If you're going to do any traveling, it's best to take a reusable bottle with you as it is an eco-friendly option. This is my go-to water bottle now and I can't imagine going anywhere without it!
The coolest part about Kool8 is that every time someone purchases a bottle. 20% of the proceeds go towards giving cleaner water to third world countries around the globe. I love this initiative and gives you all the more reason to purchase one.
Price: $34.99
Protein Coffee
New to the parent world and craving your energy and alertness back? Protein coffee may be what you're lacking. New moms and dads alike will definitely need this nifty coffee in their cabinet.
Complete Nutrition describes Protein coffee as "a keto-friendly, premium coffee blend that is low in fat, calories, and sugar and high in protein to help you power through your day!" Made with wholesome Columbian beans, it has an exquisite taste and works perfectly for any lifestyle.
My personal favorite is the Maine Roast Protein Coffee Mocha Latte. These energy boosters are a definite saviour and the best part is that it can be ready in seconds. I just mix a scoop together with 80z of colder water or milk, shake it up and go!
If you're curious about learning more on why you should start considering protein, give this article a read.
Price: $26.99
Tiesta Tea
Are you a tea fan like myself? You will love Tiesta Tea. Tiesta Tea is essentially a loose tea. This Tea focuses on function and flavour. What can it do for you? It can energize, slenderize, help with immunity, relax, and elongate your life.
I know, it sounds too good to be true, and I thought so until I tasted it. Why am I adding this to the travel list? Because it's lightweight, compact, easy to carry around while traveling, and most of all, it's ridiculously delicious!
As an avid chocolate lover, my favorite blend has to be the Bold Chocolate Black Tea. It really gives me that extra boost of energy I need when traveling on those long nights. Hits the spot every time!
Price: Varies
Waterless Toothbrush
Feeling the need to freshen up during a flight or long road trip? Let me introduce you to the Waterless Toothbrush by Colgate.
This portable toothbrush was made for use without a drop of water. It is pre-pasted and ready to go, so there's no need to rinse it prior to brushing. Just like the toothpaste, the brush has the ability to whiten teeth while removing stains.
It's a compact toothbrush that is easy and safe to use for kids as well. Keep in mind it is a single use brush but does the trick when you need it most! The best part is that it isn't confined to travel use, you can bring it to work or use it on the way to an event.
My kids love using it and so will yours! It's a fun little brush and it will get the kids brushing during your trips.
Price: $28
Mophie Powerstation XXL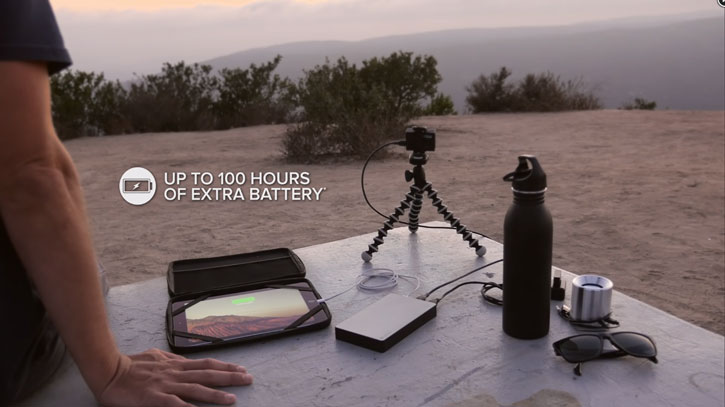 Imagine you are on your sixteen-hour flight, all settled in your seat when you look down at your phone and realized you spent too much time playing games before your flight and the little light turns red signaling: low battery.
No one travels without their technology, especially their phones and computers. Unfortunately, batteries don't last forever. You will want to charge your phone, but planes don't come with regular outlets, and it may be a slower charge if it is offered.
The solution? I found The Mophie Powerstation XXL. This energy packed device keeps your gadgets charged for endless hours of internet and streaming for those long flights, especially if you have children you're trying to keep occupied!
This charging station is equipped to give your battery life up to 100 hours. If that isn't enough, can charge several items at once. It also comes with a two-year limited warranty.
Price: $100
Smallest Automated Travel Compressor
Have you ever felt the need to fit more things in your suitcase? Well now you can safely with the VAGO Travel Compressor. I personally used this device for my recent travels overseas. I knew I was going to buy souvenirs for family and friends, so adding the extra space was super helpful!
This little powerhouse has a pressure detecting sensor used to remove the air in your suitcase. It helps condense your clothing to half their size and easily pack in more or leave extra room if you plan on buying souvenirs yourself (or bringing back some cool seashells with you!).
If you're bringing heavier, winter clothing, this vacuum will do the trick and help you condense as much as possible. You can't go wrong with this travel compressor, it's the travel accessory you never knew you needed and neither did I.
Price: $90
When traveling, you don't have to go breaking the bank for the latest and greatest. I hope you find these gadgets and accessories just as useful I did!