Sponsored
>
>

Benefits of POS Testing
Benefits of POS Testing
The Point of Sale or the POS system is an important tool in every business. It handles all the purchases and sales conducted in a business. A lot of establishments especially fast-food restaurants, convenience stores, and gas stations are beginning to adopt this financial system.
The POS system constitutes both hardware and software. The software deals with the storage and analysis of sales and manages the financial data of the business. The hardware includes the computer system, scanner, and printer.
The POS system has completely changed the way we buy and sell. It's an innovative technology that makes purchases so much easier. The first POS was manufactured in the 1970s and it came with a computer, bar code scanner, and printer.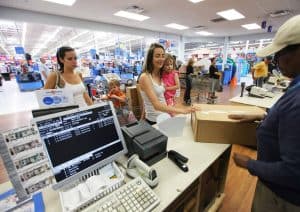 There are so many businesses that use the POS system:
Retail businesses
Hotels
Clothing stores
Automobile companies
Hair salons
Shoe stores,
Sporting goods stores
Gift shops
Vet clinics
Pharmacies
Benefits of the Point of Sale System

There are so many benefits of using the POS system. This is a list of some important reasons why you should use the POS system in your business:
POS systems are very inexpensive and can be purchased anywhere. There are numerous brands of POS so you have to choose the one that works best for your business.
The installation of POS systems is very easy. They don't take up a lot of space and they are also easy to maintain.
The Point of Sales system prevents errors as it is very accurate. This way you can save a lot of money in the long run. Sometimes mistakes can occur when we do the calculations ourselves.
The POS scanner facilitates rapid transactions. Customers are able to get purchases done quickly. Customer satisfaction is crucial to the growth of any business.
If you use a web-based POS system, you won't have to bother with the installation. This type of POS system is managed by the system manager so the main user doesn't have to install it.
With the web-based POS system, you don't have to worry about the cost of updates and reconfiguration.
The POS system also takes care of the inventory. You can keep track of your goods so you know the ones to stock up on when you run low.
The Point of Sales System also manages and analyzes your sales data. It notifies you whenever you are running low on goods.
With the Point of sale system, you get accurate reports on a daily, weekly and monthly basis. This helps you track the growth of your business so you can see the areas that need attention.
The POS system monitors your daily transactions and gives you accurate information about your stock.
You can also group your goods into categories according to your preferences. It makes inventory easier and more productive.
POS promotes a healthy relationship with your customers. Every detail about a customer's purchase is recorded by the POS so customers will find it easier to exchange or return a product. All you have to do is look through the record for the details of their purchase.
The POS makes settling accounts easier. Your business doesn't require a professional accountant. The system enables you to keep records of all your cash transactions.
You can also use the POS to order products as soon as your stock reduces. That way you never run out of your hottest goods.
The POS system is very fast with handling transactions. You can attend to many customers at once.
With the POS system, your customers get a detailed receipt of these goods that they bought. Most people like to have a receipt for every purchase they make.
The POS system is manufactured with software that double-checks every information. This eliminates mistakes and promotes accuracy.
You can also use the POS to give discounts to your customers on particular goods and also make promos.
The POS allows you to control your sales, returns, and inventory. It also helps you to organize discounts, promotions, customer's and employees' private information and working hours.
The POS system is also very beneficial for businesses that run several promotions in many locations. You can manage your company through the Internet from any location at your convenience.
Due to how meticulous the POS system is, you can plan new strategies for your business growth and set new goals.
Many businesses are stepping up and making use of innovative technologies. For a business to grow in this era, keeping up with the recent technological trends is extremely necessary. Using the POS system will help your business to grow and bring you more customers as well.