>
>

8 Must have Android apps for web developers and graphic designers
8 Must have Android apps for web developers and graphic designers
Are you a developer looking for apps for your android device?
Did you know that the Android operating system uses the modified version of the Linux Kernel? It was originally developed by independent firm Android Inc., and then acquired by Google. One can still remember the days were applications for Android were scarce. But now Android apps has really taken off – it seems that we have an app for everything for Android.
Android apps are mostly known for games, entertainment and navigation – but are aware of the mine-full of apps built for web developers and graphic designers. These apps are not only useful, but also fun to use. Here are 8 Android apps that is a must have for developers as well as designers.
The magic color picker allows you to look through various colors via the color-wheel. This application goes beyond the basic color formats like RGB and HSV. The other color format that is used to provide you the value of the colors is YUV, HSL, and hexadecimal. Not only you can browse through the wide variety of the colors but you also have various choices to change the display style of your web palette.
You can either for the display style of palette or sliders. Extremely useful for designing user interfaces, page layouts and of course – CSS color schemes. You can find out more on mobile and tablet design, and see how you can find this color picker to be a handy tool in the future.
Often times you just have to read code. From a mobile phone – this task can be daunting. Code and mobile phones simply do not mix together. With Code Peeker Pro, your code is formatted gracefully – in a manner that developers are used to. Syntax highlighted, color coded, tabbed and spaced correctly.
This is a very simple and basic application used to adjust and go through various colors combinations. Very easy to come up with the next color scheme for your project. Models of colors that this application consists are RGB, HSB, and HSL, while the app itself can be made to work as flash light in the full screen mode.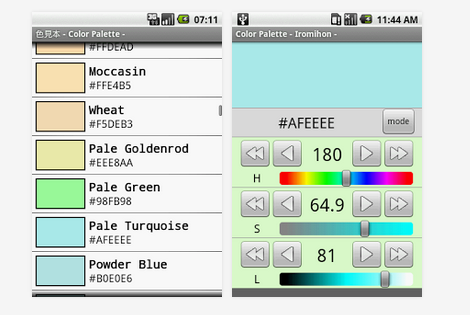 The best part is you can customize the names of the colors that will make it easy for you when you will work with some of the particular palettes.
Okay, what better way to reference your code than on your phone. The Cheat Sheet is awesome for people who wants to stay on top of their programming language's syntax, structure and capabilities. It is having several guidebooks (hence, cheat sheets) right in the comfort of your phone. So if you need a definition of an HTML tag – simply look it up in your phone.
Very easy to navigate, clean and concise UI and is almost free (.99 cents). Contains languages such as HTML, CSS, PHP MySql etc. Categorized and organized in a simple and fluid format.
Okay, not exactly a developers app, but is indeed useful for designers. Actually, this application is built for pictures, so for almost anybody – it's good tool to have. With this application, you can take pictures and apply filters and effects. You can also mask these filters and effects in the real-time, save and share to social media sites. This Android app is available for free and is very fun to use.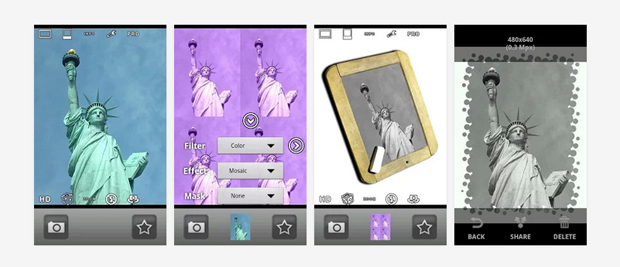 This is the first step to the stairs of success for the developers. This application is cherished by the developers as well the bloggers. They are well aware of the importance of this application for the website and blogging. Google Analytics for android gives you a graph or a chart statistic of your website and blog page. It gives you the data including the comparison on dates, reports based on geographical location, and much more.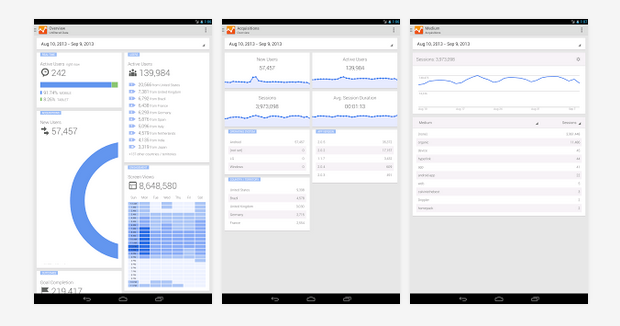 You must be familiar with the features of Photoshop. It is the best photo editing application so far. Every graphic or web designer needs a Photoshop to edit pictures. This one will let do it over the phone. Crop, rotate, color-correct, and do much more with pictures using awesome app. Even more, you can share your pictures through your account on Photoshop.com.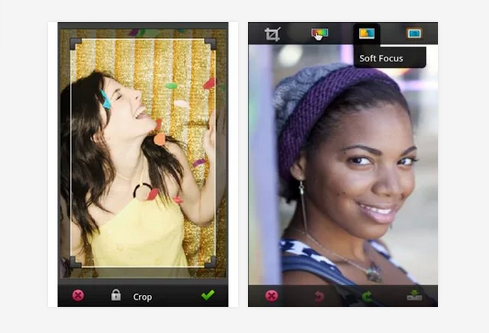 Last of all, more of a blogger's tool than simply a developer or a designer. But then again, everyone has to have a blog these days. This allows you to write posts, edit your previous content, manage the comments of the people, and much more. Like the nature of WordPress itself, this application is open source and is available for free.
Now it's your Turn
While we have a similar article from a while back called 5 top mobile apps for developers, we know that there are hundreds more out there that we didn't failed to include. That's why we are asking for your help. Let us know in comments below which Android app have helped you in your design and development tasks. We will do another post when we have enough entries.