Sponsored
6 Creative Splashback Ideas for Modern Kitchens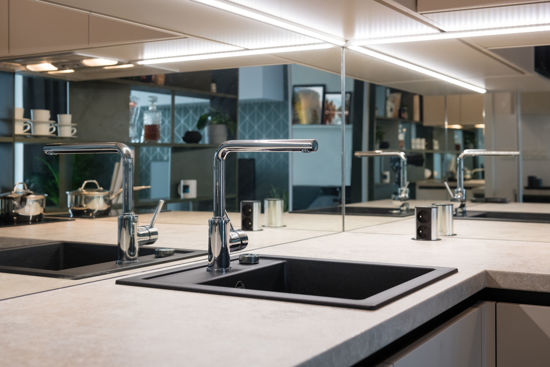 A modern, predominantly minimalist kitchen can be the easiest type of space in which to incorporate a splashback. The subtler the surroundings, the simpler it is to bring a splashback into the mix with great effect.
Even so, making the most of your kitchen improvement project calls for at least a little creativity; you could choose a splashback in almost any single colour and make it work, but why not explore some of the more abstract options available?
With this in mind, here are just six of the many different types of creative kitchen splashbacks you could use to enhance your modern kitchen:
1. Jet Black Glass

Despite being one of the easiest colours to integrate into the kitchen, black is often overlooked in favour of other colours. The vast majority of modern minimalist kitchens feature an equally minimalist colour scheme. Where a kitchen is decorated in predominantly neutral tones (especially where whites and greys come into play), nothing brings elegance and sophistication into the picture quite like a jet black splashback.
2. Tile Effect Splashbacks

One of the best things about a tile-effect splashback is the way in which it can feature almost any configuration of colourful tiles imaginable. You can go for a large glass panel that features a composition of identical tiles and the same colour, or one that adds a magnificent mosaic effect to your walls. In both instances, you'll be looking at something that brings a touch of traditional charm to a predominantly modern kitchen, an attractive point of focus for the entire space, which is (mercifully) much easier to install than conventional tiles.
3. Chevron Designs

Splashbacks (and walls in general) featuring a chevron design have been hugely popular for some time now. What's great about chevron designs is the way in which they can be as large or small as you like and still transform the visual appeal of a kitchen. Likewise, you can experiment with a world of different colours for both the chevrons themselves and the backgrounds they appear on. Black and white may be the obvious choice for a modern kitchen, but it's always worth considering the more abstract options available.
4. Copper Effect Splashbacks

The strategic inclusion of copper accents in an otherwise modern kitchen can look simply stunning. There's something about the juxtaposition of new and old that can bring a kitchen to life like almost nothing else. Where copper sinks, taps and hardware in general look the part, a copper-effect splashback can look even better. The same can also be said for most metallic-effect splashbacks in general, which never fail to make welcome additions to modern and minimalist kitchens.
5. Stone Effect Splashbacks

The same can also be said for stone effect splashbacks, which can be crafted to faithfully recreate the appearance of many types of natural stone. Marble and granite splashbacks are particularly suited to modern minimalist kitchens and are also simple to pair with most existing colour schemes. A toughened glass splashback with a natural stone finish brings all the visual appeal of the real thing, coupled with a much lower price and a simpler installation process.
6. Mirror Splashbacks

Glossy and reflective surfaces are right at home in modern and minimalist kitchens. In which case, why not bring yours to life with a mirror splashback? What's great about mirror-effects splashbacks is the way in which they can be tinted in a near-limitless range of colours and hues. Go for a classic silver mirror if it suits your kitchen, or change things up with an antique-effect mirror for something a little different.