Setup the Home Page Template
Most CMS style themes require you to apply a special home page template for the front page of your site. This is necessary because by default, WordPress would like to pull your latest posts and display it in the front page. A custom page template bypasses this behavior and turns your front page – into however you want. Hence, a CMS.
To do this, your theme has to have a page template specifically for the homepage. Some of our CMS themes which feature a slider, or a carousel in the home page – is most likely a custom page template.
To Apply a Home Page Template:
Login to the admin panel. Create a new page – name it "Home". In the right hand side of the page – you should see a box called "Page Attributes". *Note that if you do not see Page Attributes, look on top of the page for a tab called "Screen Options" and check the box for "Page Attributes".
In the drop down box – select "Template Home" (can sometimes vary).
Hit Publish. You can now view your new page called "Home". But you probably want it to be the default page such as www.somesite.com – instead of www.somesite.com/home. To do this, follow the additional steps below:
Setup your Reading Settings
Go to "Settings" > "Reading". On top of the page – where it says "Front Page displays" – you want to select "A static page". From the drop town list, select the page "Home".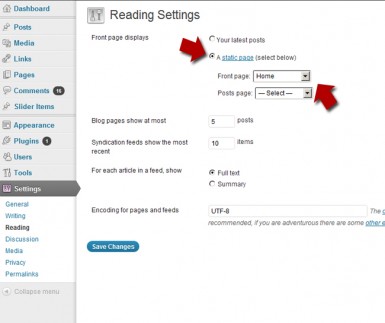 Click "Save Changes" and your front page will now show the new page we've just created.
Setup your Blog Page
But now you probably want to have a page called "Blog" – to show your most recent posts – right? Then repeat these steps all over – but this time, name the page "blog". You don't have to apply a page template – WordPress will pull the default page. Once published, go back to the reading settings and in the same section, under "Posts page" – select "blog" and hit Save Changes.