Setting up the Eureka Theme Options
Eureka is equipped with plenty of theme options that will make it easy for you to customize your blog. All options are found under "Appearance" > "Eureka Options".
Header Settings
The logo url is where your logo lives. This is covered in detail in this post. A Favicon is the small image that shows up in the browser when you hit your site.

Uploading the favicon is the same process as any media. Simply paste the url in the favicon url field. Make sure that it is a proper favicon file – you can use this tool to generate a favicon.
Home Page Settings
The homepage has a testimonials and subscribe section. To update them, use the fields that are in the options panel.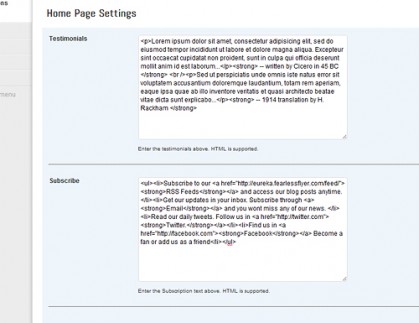 Note that HTML is supported, so simply paste the code in these text boxes. Note that a default value is already included with some latin text – so all you have to do is follow the format.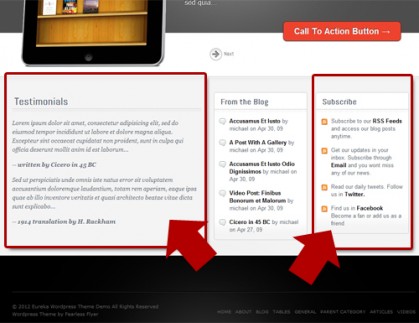 Single Page Settings
The single page settings pertain to the single post pages. By default, social icons show up at the bottom of each post. You can disable this by checking the box in the options. You can also have a wider area for your content by disabling the sidebar in the post pages. You can do this by checking the box in the options panel.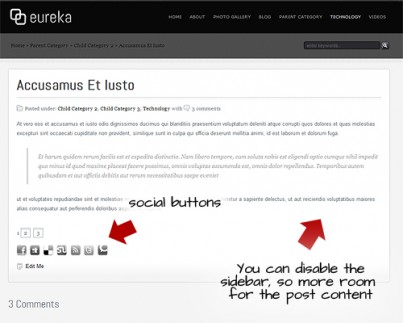 Footer Settings
The footer settings are real straightforward. The copyright text, by default has the symbol, your website name and the string "All Rights Reserved". You can override this by simply entering text in the options panel.
The footer also has a single level navigation. To find out how to use the WP menu system, click here. You can disable this by checking the box in the options page.