Setting the Photographer Theme Options
The Photographer theme is equipped with theme options that will help you customize your site with ease. Before continuing, make sure that you have set up the homepage template – by following the instructions in this post. The home page template is what you see in the demo area shown below:
To access the theme options, go to "Appearance" > "Photographer Options".
Enter the Category Ids
The homepage template will group your posts into sections. You have to enter the category ids in the theme options field called "Category Ids". Enter the Ids separated by a comma as shown below: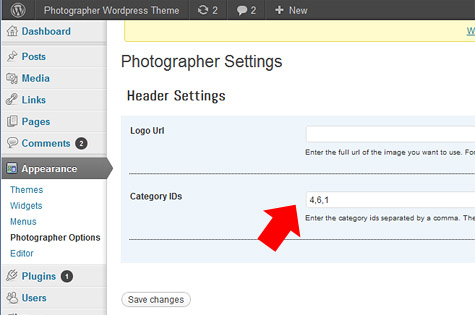 How do I get the Category Ids?
The easiest way to get the category ids is by navigating to "Posts" > "Categories". Hover over a category – but don't click, you should see in the status bar of your browser the url of the link. Notice the parameter "tag_ID=" and the number right after that is the category id of the one you're hovering over.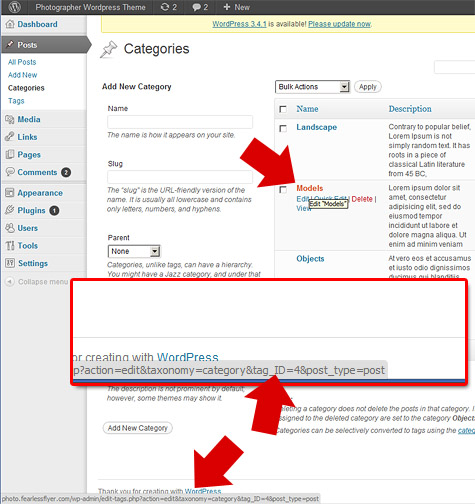 The number of category sections depending on the number of ids you enter in the theme options page. So if you enter: 4,5,6 – 3 sections will appear with category 4 first, then 5, then 6.
Set the Logo Url
You can change the logo by entering a full url of your image into the field called "Logo Url". Make sure you use an image that is 250 pixels wide and 79 pixels tall.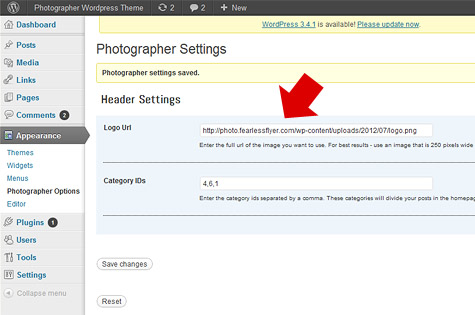 Also make sure to use a .png image if you want to preserve the transparency of your logo. Save your changes and view your site. You should see your logo in place.
Don't forget to set up your photo galleries – by following this post. Please leave your comments below.