>
>

Free WordPress theme for the traditional publisher and classic blogger: Resolution
Free WordPress theme for the traditional publisher and classic blogger: Resolution
Many blogs designs have sprung out during the Web 2.0 revolution. Magazine style, Photo blogs, Video blogs, radical layouts – you name it. How about a traditional WordPress Theme that revolves around your material? One that has extra large post thumbnails, a nice header background, beautiful font treatment, subtle textures and a tall footer for widgets. How about custom menus, threaded comments plus theme options for further personalization. How about Resolution – a classic WordPress theme for your awesome content.
Simple and Effective
Resolution has the old fashioned latest content in the main left column – with a skinny sidebar in the right. You won't fail to notice the extended header – with a background of your choice right behind the beautiful logo and site slogan.
The post thumbnails have a static width – but can span as long as you want. This will play nicely with your portrait or landscape images.
Single Column Post Pages:
This theme will focus around your content. This is why I decided to make the single post pages a single column, with decreased header height. No sidebars to distract your readers – just your content with plenty of spacing all around; subtle CSS3 effects and just the right amount of styling to attract viewers.
Of course, threaded comments and gravatars are supported. Monochromatic icons expertly crafted by Iconshock and typography using @font-face technology courtesy of fontsquirrel
How to Use:
Installing Resolution is just like any other WordPress theme. Simply go to the "Appearance" > "Install Themes" section in your admin panel. Click the "Upload" link – browse to the theme .zip file and "Install Now".
I've also added a couple of theme options that will get your website up and customized – without touching code. Simply follow the directions below:
Change the Header Background:
You can change the default praying mantis background that comes with the theme. What you need is a nice 980 x 314 image. You can either use a remote image, or upload one into your server. You need the url for your image, so if you're uploading – go to Media > Add New, Select Files and navigate to your image. In my case, I'm using my nice hippo.jpg: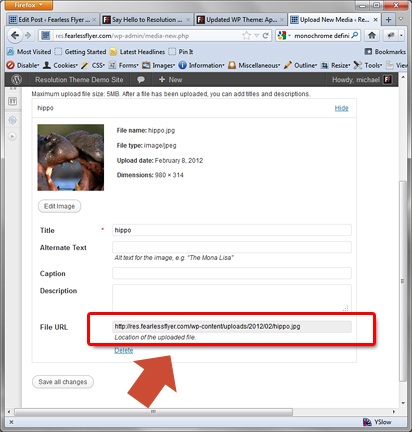 Once uploaded, copy the value in the field "File URL" (shown above). Then go to Appearance > Resolution Options and paste the url in the Image Url field: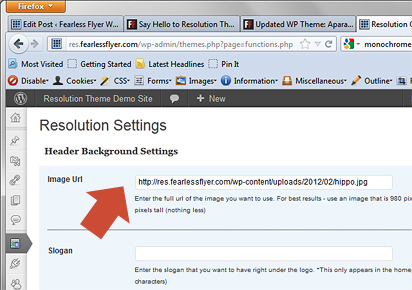 Click "Save Changes" and you're good.
Customize the Header Slogan:
The slogan right below the logo can be customized through the options panel. Simply go to the Appearance > Resolution Options and enter your desired text in the field that says "Slogan".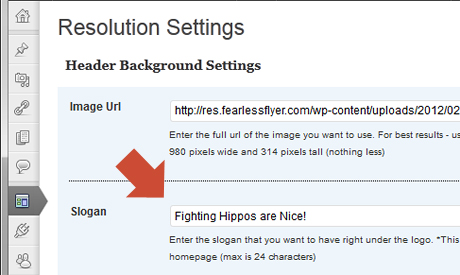 Note that the slogan is only shown in the homepage – where the header is extended. Also, there's a 24 character limit so make it short and snappy!
How to Customize the Navigation Menu:
Go to "Appearance" > "Menus" and start by creating a new menu. Enter a menu name and click "Create".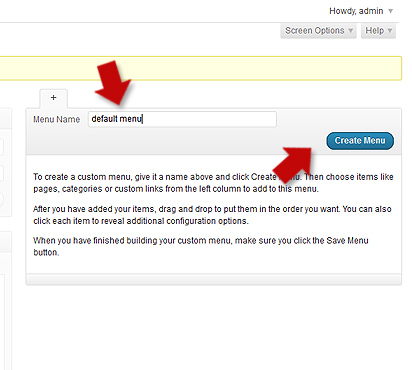 This will create a blank menu panel in the right side of the page. The idea is to select categories, pages or custom links from the left side, click the "Add to Menu" button – and it will appear on the menu panel in the right. In this panel, you can drag and drop the links so you can design the menu hierarchy. Links that are staggered underneath become the drop down links from the respective parent – you get the drift.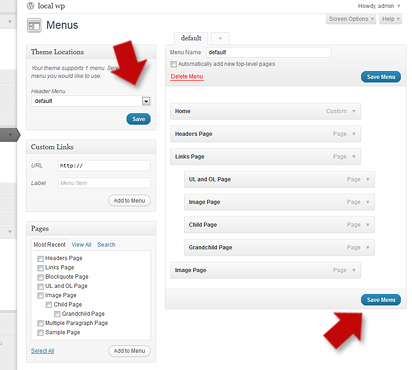 Once the menu is done – hit "Save Menu" and in the top most left column box called "Theme Locations", select the menu you just created from the drop down called "Primary Menu". Click "Save" and view your website. You menu should now be in place.
Widgets!
You will also notice that this theme has an extra thick footer. I've made sure you can stuff as many widgets down here as you want. Go to Appearance > Widgets and you will see plenty of widget columns namely footer column 1, footer column 2, footer column 3 and sidebar.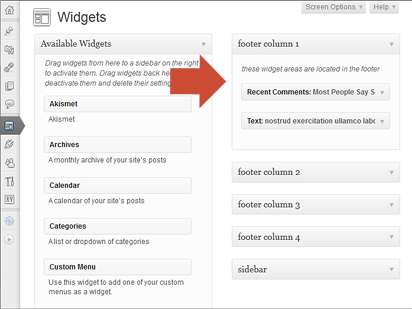 Adding widgets to these areas equates to the four narrow columns you see in the footer area. Well except for "Sidebar" – which means … sidebar. You can stack as many widgets in the footer columns as you wish. Stacking them higher means a thicker footer. But don't get carried away: Thicker doesn't always mean better.
Conclusion:
You can download the theme from this link. Additional documentation can be found from these series of posts. Please make sure you leave comments below.