Why Referral Marketing Works
Referral marketing is a cost-effective way to get the word out about your products and attract new customers. If you're looking to expand your business, you might be interested to know that about 65 percent of new business comes from referrals. That is nearly two-thirds of new business!
If you really want to grow your customer base, referrals are the way to go. People are also much more responsive to brands recommended to them by their friends. Some of the reasons referral marketing works so well include:
Reaching a Highly Targeted Audience
You've heard the saying about birds of a feather flocking together, and this is true. Your current customers are likely to have family and friends who would also be interested in what you have to offer. By offering some type of incentive for customers to refer others to you, you gain contact with their entire network of acquaintances.
Even if you paid a lot of money for a mailing list, you wouldn't have as much of a target demographic as through employing a referral program. Referrals are smart to many different levels.
Do you remember when PayPal was just getting started? It offered a referral fee for you to invite friends and family to sign up. Of course, they had to sign up and actually use the service, which provided PayPal customers with an incentive to refer people who were interested in what the company had to offer.
PayPal's model worked well because it knew once people tried its service, they would likely be hooked on it and continue to use it. As of the first quarter of 2017, PayPal has more than 200 million registered and active accounts around the world.
Giving Back
If you're like most business owners, you probably have a strong relationship with your customers and want to offer them something free. Of course, you have to consider your bottom line and make sure the referral reward allows you to still make a profit.
Some of the types of things you can offer for referrals are points that can be earned toward a gift or a credit when the new customer orders.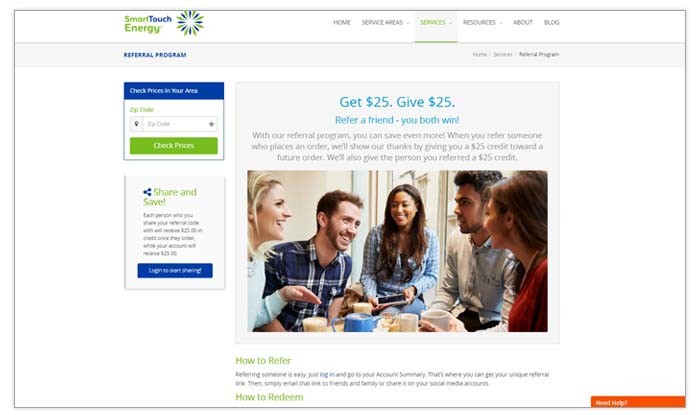 Giving your friends a discount and getting a referral fee is a popular scenario. For example, Smart Touch Energy offers a special where you get $25 and your friend gets $25. The exact wording is: "Refer a friend — you both win!"
Offering Fundraising Opportunities
There are many good causes, and as an individual and a business, you simply can't afford to donate to them all. However, what you can do is offer a fundraising opportunity. This can be available only to nonprofits, or you can open it to anyone.
Some types of fundraisers you might contribute to include adoption funds, mission trips, local organizations, medical expenses, schools, churches and groups. There are many opportunities to host a fundraiser in ways that will benefit both you and the organization.
For example, you can give 10-20 percent of profits to the organizer of the fundraiser. Applebee's restaurants has an interesting take on this type of referral marketing. It offers a fundraising program called Dining to Donate. Diners eat on a specific night and let the restaurant know what group they support, and 10 percent of the meal ticket is donated to the organization. This is an easy way to bring new diners to the restaurant.
Offering Employee Referrals
A referral program is easy to set up and so effective. In addition to customers, you can also establish one for your employees to encourage them to refer you to family and friends. This benefits people the employees know, because they get a discount they otherwise wouldn't receive. It also benefits the company and employees, because it increases business and job security. You can also give a gift to employees who refer a customer.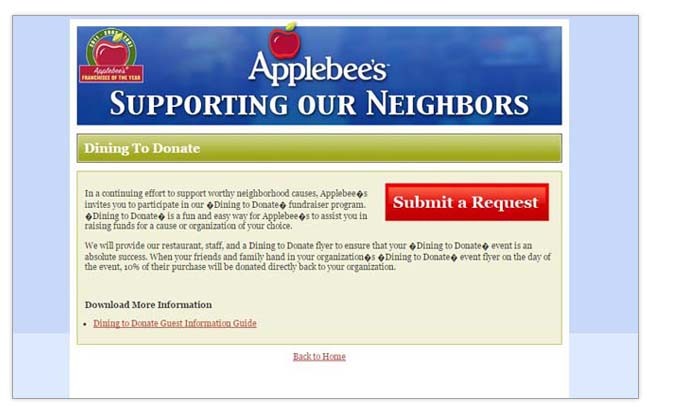 Ford Motor Co. has an employee referral program that works well. It gives employees 2 percent below the sticker price in addition to other incentives. Employees can give this A-Plan to immediate family, and they can also offer an X-Plan to close friends or relatives that aren't immediate, such as a cousin.
This benefits the company, because the employee can say "don't buy a Chevy, but a Ford and I'll get you a discount." It also allows the employee to explain why they like the brand.
Getting in on the Gamification
Some companies turn their referral programs into a fun game. Not only is there a reward for referring others, but it is also downright fun to do so. Some people thrive on competition, so gamification allows companies to tap into that mindset.
An example of a good gamification referral program can be seen at Ebates. Ebates offers not only cash back by going through its site or using its app, but you can also earn additional money by referring friends. There is a running tally of how much you're getting back each quarter. It can become a game, where users try to earn more back each quarter or get in on the best deals.
On the same topic, read how content publishers use gamification to gain traffic.
These are just a few examples of referral marketing that has been successful for a few different companies. The more creative you can get with your referral marketing, the better your chances are of capturing the attention of potential customers.