>
>

Free Real Estate WordPress Theme with property management, slideshow, contact form – Realty
Free Real Estate WordPress Theme with property management, slideshow, contact form – Realty
It's been a while since we've released a free theme. This time around, we've built one that is focused on the housing market. Realty is a powerful WordPress Theme that is packed with all the trimmings of a Real Estate Website. The theme is fully responsive from desktop to mobile phones. It comes complete with property management, slideshow, custom taxonomies, advanced filters, contact form and Google maps integration.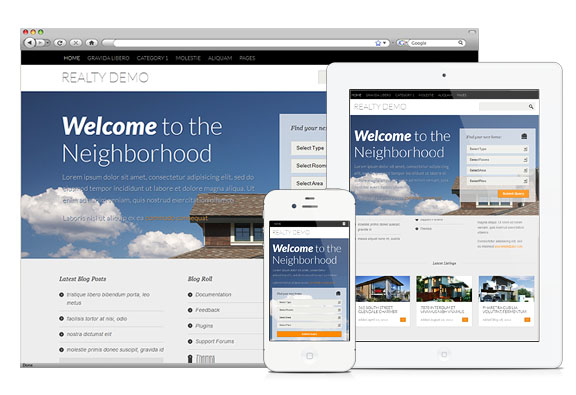 We foresee that a good portion of your viewers will be in a mobile device. People will browse your listings from their cell phones, iPads – so it's important that your pages scale responsively. We kept this in mind when developing Realty. Note that many of today's Real Estate solutions do not even scale responsively.
Property Management
Your properties are easily maintained in the admin panel – just like managing your posts. Easily group them with custom taxonomies like Area, Rooms, Type, and Price. Add, Edit and Delete properties using the content editor you've grown to love in WordPress.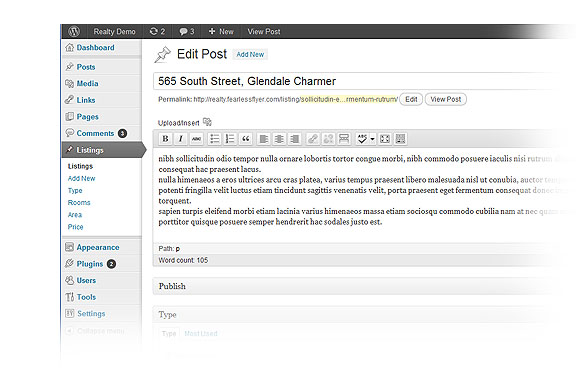 Custom Search
Allow your viewers to go through your listings with ease. The same taxonomies that you've set up for your properties – is what your visitors will select from. This gives you 100 percent control of your inventory.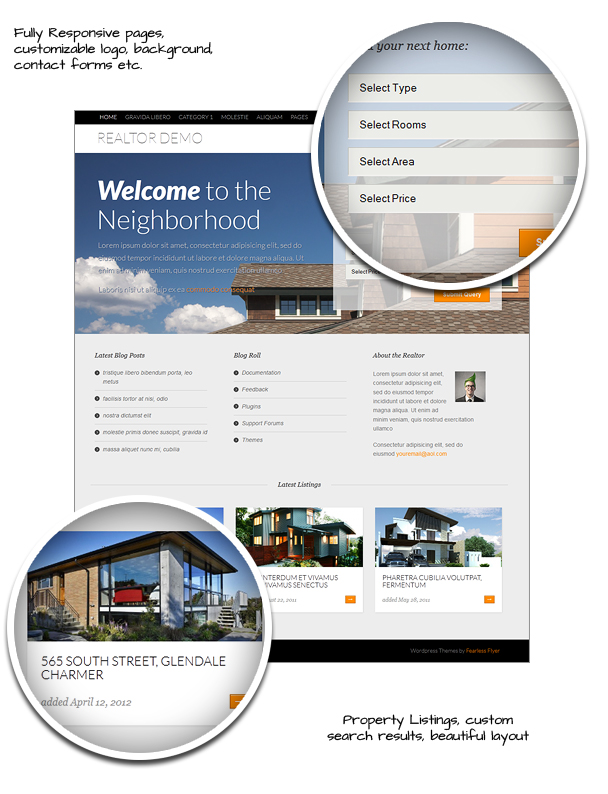 Google Map, Slideshow, Contact Form – plenty of Bells and Whistles
You can add location information to your properties by a custom meta box for Google or Bing Maps. A special "About the Author" is displayed in the sidebar and the homepage. Your gallery is displayed as a slideshow by default. A lightbox effect is triggered once you click each image and even scroll through them using your mouse wheel. A custom contact form is added so you can grab leads easily.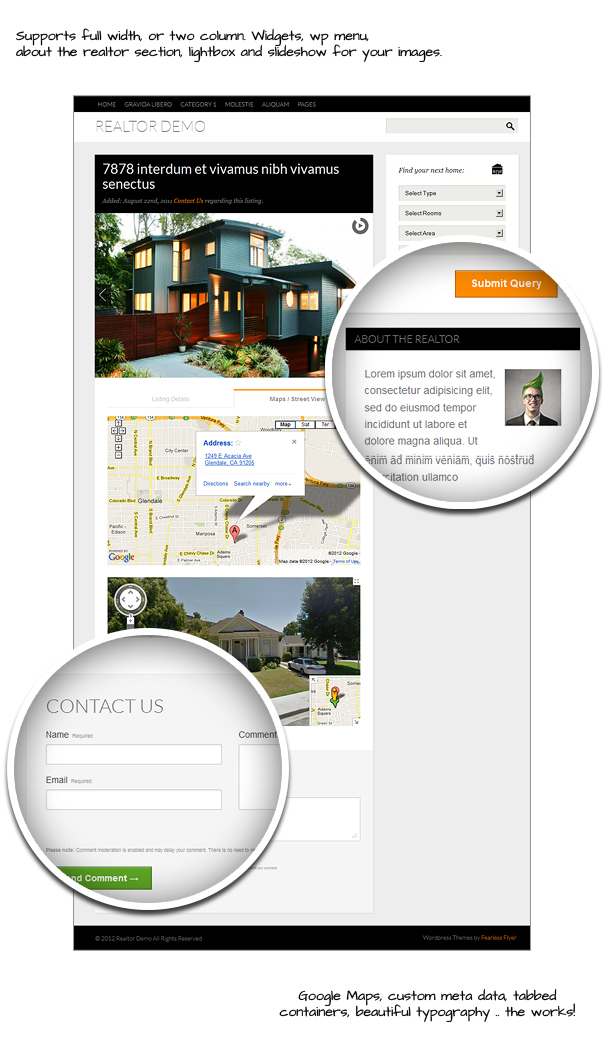 The theme uses custom post type – "Listings" for your properties. Continue reading below to find out how to manage your listings.
How to add a Listing
Adding a new listing has the same exact process as add a new post. The only difference is you have to create a new "Listing" as supposed to a "Post". Click on the "Listings" link and you should see an "Add New" link right underneath it.
Enter a title for your listing. This usually is the address of your property – but it is entirely up to you. The content area of the listing is what appears in the body of your listing. You also need to add a thumbnail to your listing. A tutorial for that can be found here. Also note that editing existing Listings is in the same area. Simply click on "Listings" and "Edit".
Flush permalink structure
Once you have a listing – you may experience "404 not found" errors when viewing it. This can easily be fixed by going to the admin panel > Settings > Permalinks and click on "Save Changes". Note that you don't have to change anything – simply press Save Changes.
How to add Taxonomies (Type, Rooms, Area and Price)
A Listing Taxonomy works the same way as Categories to Posts. Matter of fact – a Category IS a taxonomy – but that gets a bit too technical. To add or edit one, simply click on them under "Listings".
You can nest taxonomies and nest them however many deep, although I don't recommend. Keep your taxonomy structure simple. Also, assigning taxonomies to Listings has to be done when adding a new listing – and checking the taxonomy box in the right hand side.
Lastly, the taxonomies you assign to each property is what will be used in the search form. It will also appear in the "Overview" box in the content area of your Listing.
Using the Automatic Slideshow
Automatic slideshow is simply that – automatic. All you need to do is upload your photos for each listing and boom – its done. You don't even have to click "Save Changes" or "Insert Gallery" – the code will detect the images and create a slideshow.
Note that the photos will be ordered according to the order you assign in the media uploader.
Insert a Google Map
Inserting the map is simply pasting the Google map code into the allotted area for the listing. Simply go to the bottom of the content area in the "Edit Listing" page and you should see "Listing Options". In the field "Google Map" – paste the code in there.
Note that you would want to remove the part of the code where it defines the width as static pixels i.e. width="350″. Instead you want to put 100% as the value. This is so it will automatically adjust according to the viewport, keeping the dynamic nature of the theme.
The map you inserted will appear in the content area – in the tab "Maps/Street View". You can insert more than one map (satellite view and street view).
Choose a Page Layout
By default, the single Listing page appears with a sidebar on the right. You can change this to full width – which removes the sidebar, making the slideshow and content span the entire 1024 pixels of the page.
Simply go to the "Edit Listing" page and go to the "Listing Options" box and select the layout from the "Please select a style" drop down list.
How Does the Contact Form Work?
Each listing will have a contact form at the bottom of the content area – the same way a post will have a comment form. As a matter of fact, the contact form is a modified version of the default comment form – and works exactly the same way.
Every time someone enters a comment, it will appear in the "Edit Listing" page, in the "Comments" box.
To disallow people to inquire about a property, simply uncheck the box "Allow comments", and the comment form will disappear from the live view.
Activate Email Notification
If you want to be notified by email every time a user leaves a comment, simply go to "Settings" > "Discussion" > "Email me whenever" – and check the box "Anyone posts a comment".
Make sure you're administrator, as well as the email address in your profile is correct in order to receive the notifications.
Set up the Listing Search Results Page
This step is a very important one. It is required for users to be able to search through your listings by filtering through the taxonomies you've entered. You need to complete this step in order for your search form in the home page, and sidebar to work.
Add a new page – and name it "Listing Search Results". Leave the default permalink structure as "listing-search-results". In the Page Attributes section, under "Template" – choose "Listing Search Results".
Publish your page and view it. By default, it will lists all of your listings without any filter. Try filtering by choosing a taxonomy – and see the results change.
The page size is limited to 9 listings, and will paginate if there's more. The order is reverse chronological, and the filter is "AND" as supposed to "OR". Meaning, if you select an area + AND + price – it requires both to be true.
Conclusion
In conclusion, Realty is definitely a good start for your real estate website. Try it out and leave your comments below. The best part of it is – it's totally free. You can download the theme from this link. View this series of posts for even more documentation.