>
>

Free WordPress Theme "Lucky Guess" is Fresh and Stylish – Perfect for the Ultimate blog.
Free WordPress Theme "Lucky Guess" is Fresh and Stylish – Perfect for the Ultimate blog.
Just in time for St. Patrick's Day – I give you Lucky Guess. Lucky Guess is a semi-magazine / semi-personal blog styled theme for WordPress. It packs a set of nifty features that you will find useful, especially for newer blogs. Don't let this baby fool you – it may not be real fancy, but it will surely dress up your blog! And it loads hella fast – the theme files are minuscule in bytes!
The theme supports WordPress 3.0 featues such as post thumbnails, wp-menu system as well as widgets. A custom jQuery Tabbed Container is embedded in the sidebar. This showcases your posts which is randomly ordered, as well as post tags in the second tab. Custom styling for your photo galleries, with a built in lightbox functionality known as "Prettyphoto" – courtesy of No Margin for Errors. So all of the images linked to another image will pickup this plugin by default.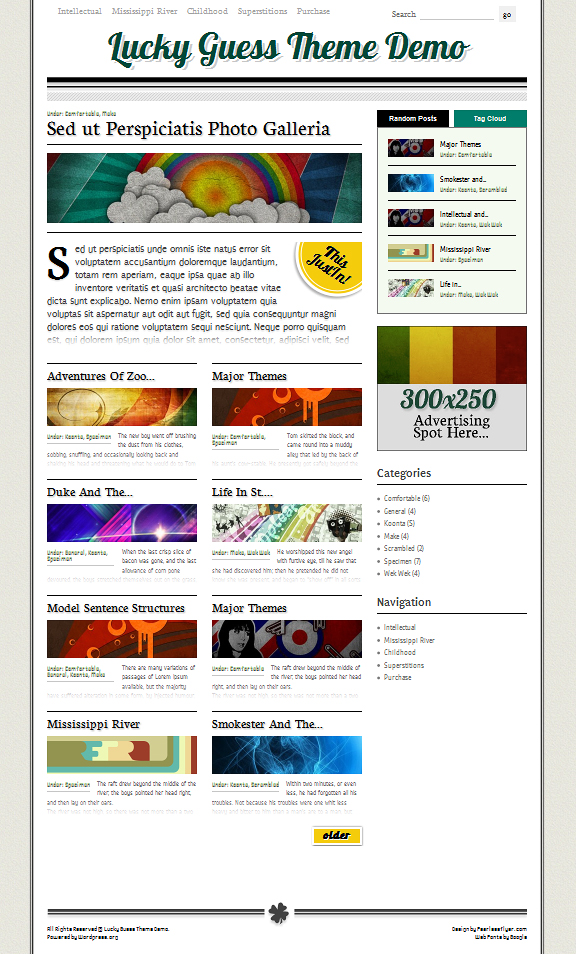 I've implemented plenty of CSS 3 techniques in this theme. You will notice both loud and subtle text shadows in the headings, text orientation and box gradients. I've used plenty of Google fonts – which renders faster than the popular Cufon. The theme is tested to work in IE 7, 8, Safari, Chrome and of course Firefox.
Conclusion
So what now? If you run a WordPress blog and need a real make over – this might be the theme for you. Install this puppy and you're ready to go. I've mentioned that this theme is ideal for new blogs – only because its easier to attach post thumbnails as you create new posts. Although Lucky Guess will still work with or without thumbnails. So what do you say? Download the theme from this link. Also, more documentation can be found in these series of posts.