How to set up the Feature Slider
This theme is equipped with a feature slider in the homepage template. If you haven't setup your home page template – please see this post first. Remember that the slider are actual posts from your blog. If you don't setup a category in the theme options page, the latest posts will be used.
Assign the Category in the Options Page:
Go to Appearance > Theme name Options (where Theme name is the theme you're using). You should see a field called "Slider Category". Enter the category slug in this field and hit Save changes.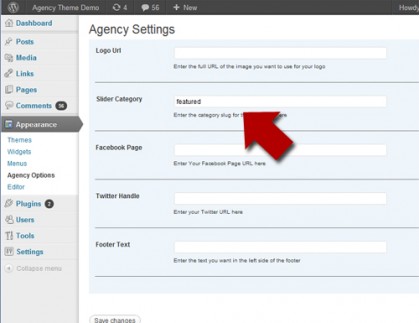 If you don't know the category slug – go to "Posts" > "Categories" and notice in the table there are 4 columns. Spot the category you want and look under the "Slug" column.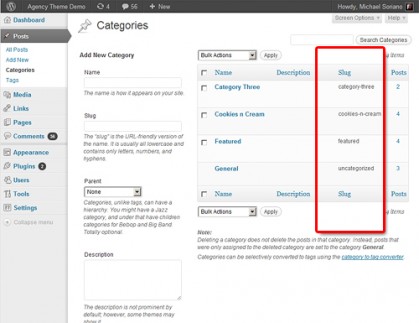 This is the value that you need for the Theme Options page. Once your changes are set, you have to assign a "Featured Image" for the posts – so it shows up in the slider. Go to this tutorial to find out how to add post thumbnails to your posts.
Finally, you can preview your changes and you should see the feature slider with the post title and post thumbnail all set up.