Sponsored
How to Manage Your Social Media Strategy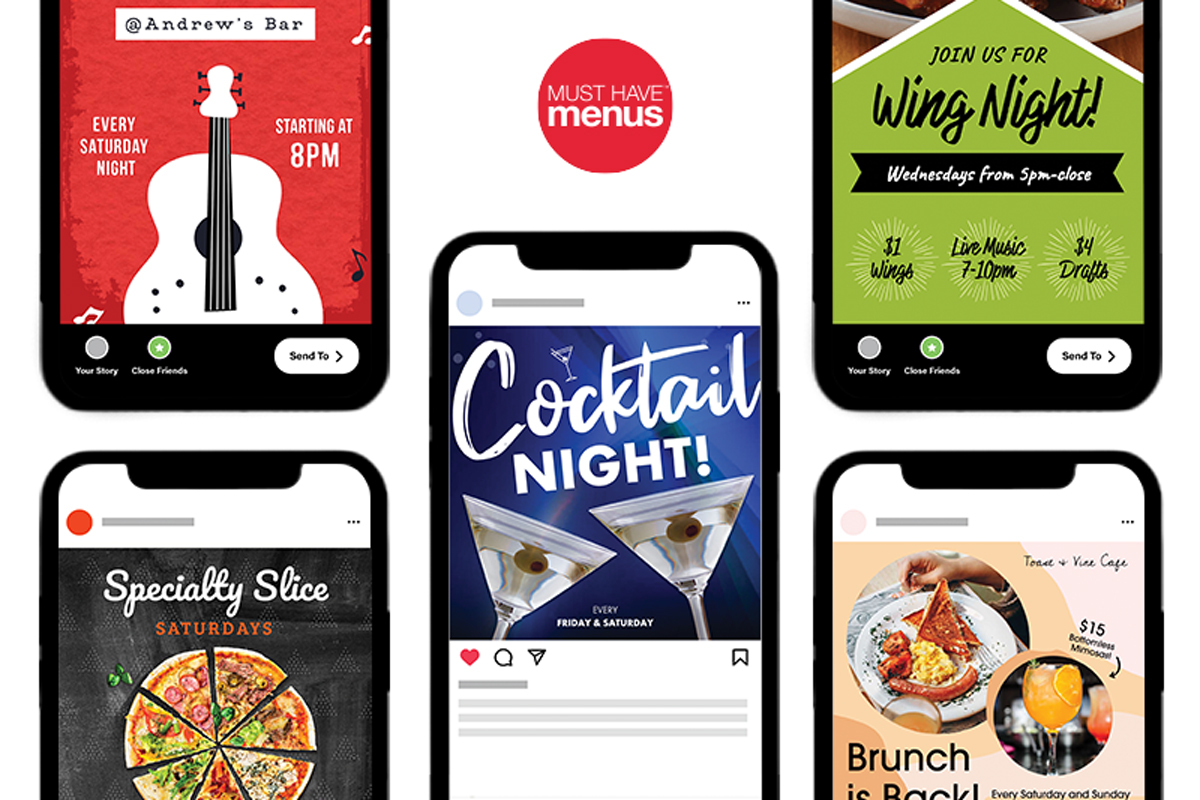 You probably already know that having a social media page for your restaurant is necessary. As society increasingly relies on social media for entertainment and news, businesses have begun utilizing the space to communicate with customers, provide business information and updates, and share their services with broader audiences.
Since you're not the only restaurant on social media, it isn't enough just to share the occasional post. If you want your social media pages to help drive sales and attract more customers, you'll want to implement a solid social media strategy. This involves deciding what type of content you'll post, choosing which platforms to utilize, scheduling and timing your posts, and analyzing metrics to understand your customer base and their needs.
Sound confusing? Don't worry. You can manage a successful social media strategy while focusing on doing what you do best — running a restaurant! Read further for tips to help you know what to post, where to post it, and whether or not your social media strategy is set up for success.
Try Different Platforms
Today, there are many different social media platforms to use, each with its own distinctions, beneficial features, and challenges. Restaurateurs can choose to use platforms like Facebook, Instagram, TikTok, YouTube, Snapchat, Pinterest, and even LinkedIn to share content and interact with customers.
For starters, using more than one social media platform is a good idea. Using different platforms for posting content and ads can mean reaching diverse audiences. This can help you garner a greater following and help you figure out where you best fit in on social media. Plus, different platforms have different features that can help you create a beneficial variety of content.
Use a Variety of Content Strategies
Social media platforms are becoming more innovative by the minute. You can share much more than simple pictures and videos online; your competitors know this. Use your creativity and take advantage of the numerous forms of content that you can create and share with viewers.
Share authentic photos and videos
Taking and posting high-quality photos is one of restaurants' most common social media practices. Share plenty of photos of your restaurant's food looking good and images of the interior of your spot. You can even repost pictures from customers and tag them to build customer-business relationships. You can even layer text over images for visually-appealing graphics that share useful information about dinner specials, discounts, or new menu items.
When it comes to marketing, sharing videos on social media can often be more beneficial than sharing photos. Since videos are lengthier, users will spend more time on your page to view them, which helps boost engagement.
Interact with customers
Your restaurant's social media persona should emulate your restaurant's in-person appeal. Interact with customers online the same way you would in person, whether by sprinkling a few jokes into your comments or using a clear, professional voice.
Use features like voting polls and questions in your Instagram stories to allow interaction between customers and your restaurant. These kinds of posts can be used to help you get a feel for your audience's preferences and help them feel that their opinion matters.
Share to stories
Stories on Facebook, Instagram, and Snapchat are posts from your page that disappear after 24 hours. Use stories to share daily updates or content, such as a simple video of your morning pizza counter setup before opening or an image of your bestselling desserts with a caption that reads, "Come and get 'em, we're almost sold out!"
On Instagram, you can pin certain stories to your profile so that they won't disappear, which is ideal for sharing your most current menu or hours in a spot where customers will know to look.
Go live
On most social media platforms, you're able to log on and start a live-streaming video. Users love this kind of raw, unedited content, as it adds lots of authenticity to your online persona. Start a live video to show a popular dish being made, the crew decorating for holidays or a bustling evening inside of your restaurant.
Use online advertising
Your restaurant's social media pages can also be used to share paid or unpaid ads. Advertising on social media is a major money-maker for many businesses, so make sure you're using ads that stand out and accurately portray your brand.
Video ads are useful for keeping viewers' attention longer, and platforms like Snapchat have features that allow you to create a location-based filter or lens that functions as a fun advertisement.
Post Valuable Content
Use your social media platforms to promote your restaurant and its unique brand and provide viewers with genuinely useful content. When a customer searches for your restaurant's social media page, they should be able to find this information:
Business information
Many customers go straight to social media for your address or phone number rather than to Google or your website. Make sure that your business hours, location, and contact information are easy to find on all of your social media accounts
News
An ever-changing world means an ever-changing restaurant industry. The pandemic has shown us that restaurants sure know how to adapt and that they waste no time doing it. When things change, customers want to know.
Whether you're announcing a new menu item, changing your business hours, closing unexpectedly, or even wanting to share that you're sold out of a popular menu item, use a simple graphic to easily and efficiently keep customers in the know easily and efficiently.
Menus
Between Google, Yelp, and the rest of the muddled internet, there might be tons of versions of your restaurant menu floating around online, and many of them might be outdated or incorrect. Take control of this very real issue and ensure that you have your most recent menu (and prices!) readily available on your social media pages. Use a mobile-friendly template so that it's easy to read or download.
Exclusive Content
Your social media presence should be a good representation of your restaurant's brand and the experience your restaurant offers. However, social media is a good place to give customers something they can't get just from eating at your spot.
Show behind-the-scenes footage of the kitchen, a tour of your restaurant after-hours, a how-it's-made recipe video, or a snap of the owner sharing lunch with the staff. This kind of content feels exclusive and makes viewers feel more personally connected to your spot.
Make Use of Time-Saving Tools
For your social media accounts to be successful — meaning that they're gaining followers and boosting your sales — some consistency and scheduling are needed. Socialized PR reports that posting at least three times a week is a good rule of thumb for your page to gain traction and engagement. Likewise, try to stick to a branded strategy rather than simply snapping photos throughout the day and posting them. Use colors, graphics, and captions that align with your brand and with your business goals.
If this all sounds overwhelming, don't worry. Since social media is now a major investment for most businesses, it's easier to access tools that take some of the work out of posting. Because when you factor in daily posting across numerous platforms, writing quality captions, using the right hashtags, interacting with users, and creating the actual content, social media is quite a bit of work.
Luckily, these tools can help you save time and enhance your strategies
Social media templates
You're a restaurant owner, not a graphic designer! As such, you might find it hard to compete with other spots whose social pages look eye-catching and professionally designed. Many free social media templates are available to you that are simple to download, edit, and post, helping you save time and giving your page a professional flair.
Scheduling services
Marketing experts know that there are specific times and days of the week that you should be posting on for opportune reach and engagement. However, that might mean posting on Twitter at four on a Wednesday but posting on Instagram at nine on a Tuesday.
Some awesome tools out there, such as Hootsuite or Later, allow you to pre-schedule posts across various platforms so that you can spend one day planning your social posts rather than worrying about them throughout the week.
Monitor Your Engagement
Don't just post and call it a day. If you want your social media strategy to benefit your business, you'll have to analyze what's working and what isn't. Whether you set aside time once a week or hire a social media manager, ensure you're assessing metrics periodically and making any necessary changes. Most social media platforms, including Facebook, Twitter, Instagram, and YouTube, have business features that allow you to track the metrics or insights of individual posts and your page.
The data you'll be able to monitor includes:
Engagement: the number of likes, comments, and shares that your posts get, plus any posts that tag or mention your restaurant's account.
Impressions: how often your post has appeared on people's screens.
Reach: the size of the audience you're reaching, which includes followers and impressions.
Click-through rate: how often viewers clicked on your content to get to your website or profile.
Demographics: the age, gender, and location of your followers.
Ideally, you'll have high numbers for both reach and engagement. If your reach is high but engagement is low, it means viewers aren't really loving your content. High engagement means that viewers are really interacting with your posts, which is definitely what you want. Posts like polls, questions, and videos require much more engagement than simple photo posts do, so if engagement is low, you might try posting some of those — give 'em a reason to click on your post.
Click-through rate is a good way to see if customers are actually ordering from you or are intending to dine with you solely from your social posts. Analyzing your demographics, especially over time, can help you determine who your audience is. Knowing your audience will help you tailor your content, voice, and brand to better suit the needs of that crowd.
Strategize for Success
Social media marketing is no walk in the park. For your restaurant to have a successful social media strategy, lots of experimentation, patience, and analysis are necessary. Take advantage of the numerous tools at your fingertips and think outside the box when strategizing. Most importantly, make sure to analyze those metrics to see where your social media strategy could improve to help better your restaurant.
Megan Prevost is a content manager for MustHaveMenus. When she's not writing about restaurant marketing, she's hanging out with her four cats and binging the latest television shows. Her work has appeared in App Institute, Bar and Restaurant, Bar Business, Beer Connoisseur, BevSpot, BiziTracker, Business Opportunites, CLH News, CFE News, FanSided, FSR, International Bowling Industry, Miss Details, Modern Restaurant Management, Mosaic Solutions, PMQ, QSR, RestoBiz, RestoHub, Site Social SEO, Small Business Currents, The Daily Fandom, Total Food Service, and Wisk.