Give me some Dark Velvet! Download this Free UI Kit for Web Designers
Oh do we have a real treat for you guys today. Have you guys ever been stuck in the same old design for your projects? With no real style and pizzazz, having to end up starting over from scratch? Well with this free download called Dark Velvet UI – you'll sure have something good to begin with.
Our friends over an Pixelkit handed us the stunning PSD file for free. Dark Velvet UI has several design elements that will make your mockup complete. Check out what I mean below:
Ribbons and Tags
These elements are extremely helpful when designing blogs and e-commerce websites. Ribbons can be applied in almost any container with a special marketing message. The tag elements are common to categories to posts. These can be used in sidebars and below article content.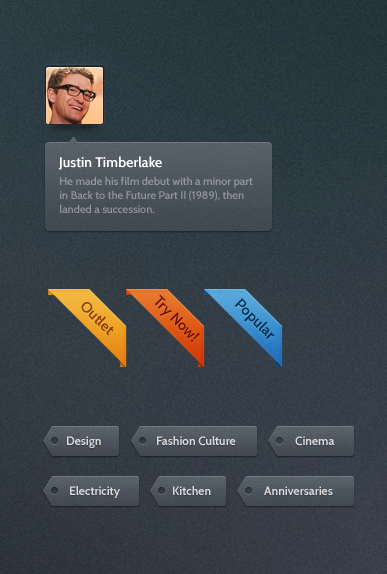 Of course, the messaging layer can be used in tooltips. Tooltips are seen all over the web these days.
Pricing Tables
In most service-oriented websites or membership sites – an attractive pricing table is almost always a must. The likes of Netflix, Lynda.com and TreeHouse.com – an easy to read pricing table is a good measure of success.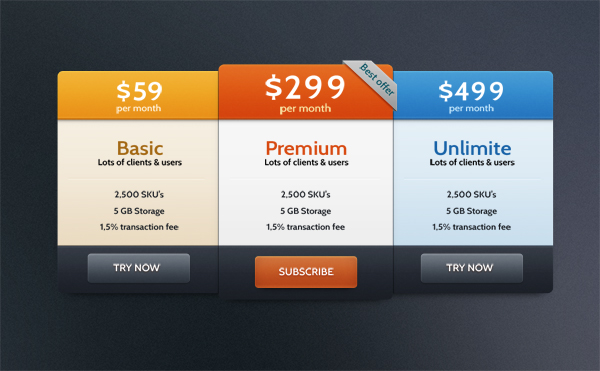 As you see, Dark UI's pricing table can be applied easily to your next design. A simple change in the color scheme and Voila!
Navigation Menus, Sliders Etc.
What's a good website without a good navigation? Let's not even discuss this part. Scroll bars are often used in filtering search results. For websites that display items for sale – such as e-commerce websites, sliders and scrollbars are good UI for filtering and sorting mechanisms.
Other areas where sliders are used are in web forms and such.
Conclusion
Don't forget, this UI kit is just a small fraction of what you can get if you get the complete file. That unfortunately is not free – and you can get that by going to Pixelkit and buying it there. What we offer here is simply the starter freebie – which is enough to get your hands wet and start designing.
For more exclusive freebies – head on over to our Freebies section. Stay tuned to get more free stuff – on the way real soon!