Free full width WordPress Theme with lots of features – Maximum
Maximum WordPress theme spans the full width of the browser – something you don't see very often. It also loads fast, due to the limited use of images. I feel the WordPress users might look for a theme that's different, one that's pretty and one that's fast. Please check out the demo for Maximum:
The Holy Grail
So I thought it was easy to have three columns, with both sidebars static widths; while the center column is the only one that expands according to the browser. Boy I was wrong – I couldn't figure it out for the life of me! And through some serious searching I finally discovered "the Holy Grail" – from A List Apart. The funny thing is – I'm probably one of the last ones to find this "sacred" code. Thanks to Matthew Levine's article – I achieved my layout.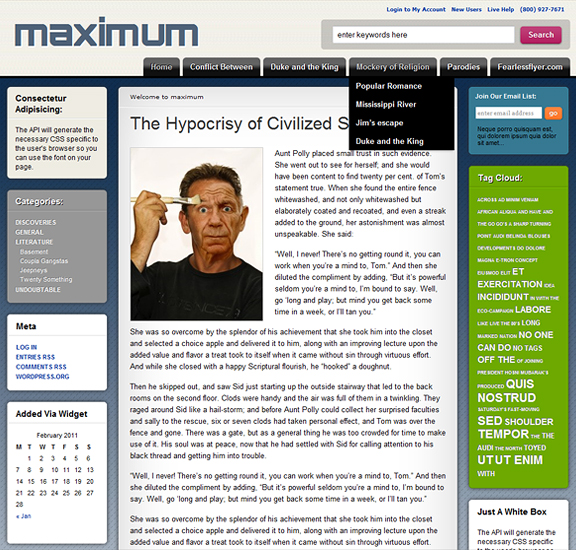 Breadcrumbs, Buttons and CSS3
I started to implement my own breadcrumb function – but discovered Dimox's solution – was far more complete. I needed a breadcrumb navigation that doesn't require a plugin and Dimox did the job very well. Zurb's Super Awesome buttons are what's styling all the buttons in Maximus. You should notice the resemblance for each button – with only the base color that is different from one another.
Lastly, I've adopted quite a few CSS3 techniques from all over the net. From box shadows, text shadows and overlays – all contribute to the visual effects of Maximum.
Conclusion
I hope you find good use for Maximum. I did enjoy experimenting and discovering new ways of doing things. I imagine this type of theme would suit the serious content writers (ones who need all the real estate they can get). It may also be used for ecommerce, or "wiki" types of layouts – who knows. If you do decide to use it, don't forget to leave your url in the comments section below! Happy Blogging!
You can download Maximum theme files from this link, and find additional documentation from these series of posts.