Free PSD – Grunge Blog Layout
Just in time for Halloween – I give you "Argyle's Drudge", a fully layered Photoshop file that can be the base design of your next blog. In time for Halloween because it does have that messy, random and scary feel to it – don't you think? The design is wholly unexpected – colors of October Green, Blood Shine Red and Mildew Blue. Stacks of shadowed crumpled paper make up the main container with a sidebar – which is the common trend in personal blog layouts.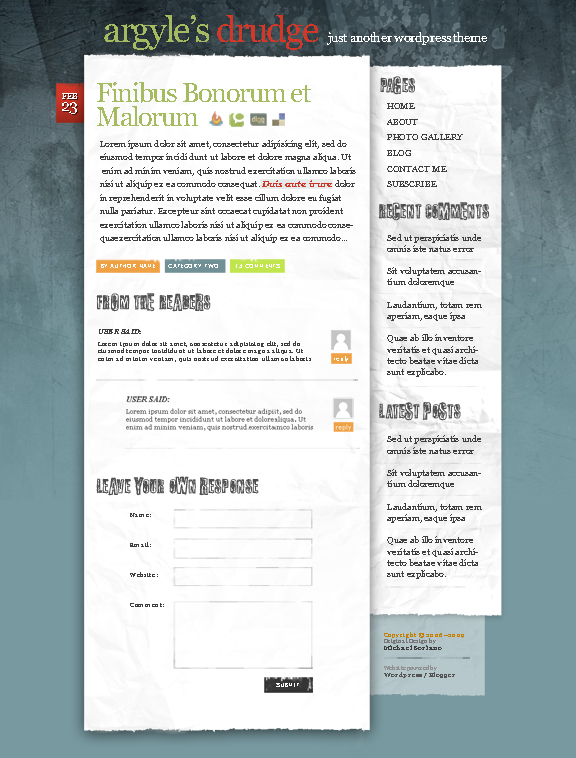 Argyle's Drudge has a very narrow content area of only 746 pixels. I chose to stay away from the standard 960 grid design because I find that grunge layouts don't seem to play well with it. Speaking of grid based design, find this article about lining up your posts perfectly within the grid. As I was saying – the whole point of grunge is random and spontaneous – conforming to a grid just doesn't fit.
More Details:
The pale blue watercolor splash background is courtesy of my Backgrounds etc. The beautiful hand sketched fonts is known as "Fail Font" and can be downloaded from DaFont.com. Note that since "Fail Font" is free – it's the perfect opportunity to use Cufon in your coding. Cufon is the technology that enables you to use any kind of font in your pages (read article).
Argyle's Drudge is completely free to use for your next theme of choice. May it be WordPress, Blogger, Typepad: all I ask in return is for you to follow my updates in Twitter or leave a comment below.
Download Argyles Drudge.