Customize Resolution Theme Options
Resolution theme is equipped with theme options – so that its easier for you to customize. Note that changes beyond the options will require you to edit the actual code. To change the logo in the header and the small logo in the footer – you have to check this post.
Change the Header Background:
You can change the default praying mantis background that comes with the theme. What you need is an image that is 980 pixels wide and 314 pixels high. You can either use a remote image, or upload one into your server. Either way – you need the url for your image. So if you're uploading – go to Media > Add New, Select Files and navigate to your image. In our example below, we're using an image called "hippo.jpg":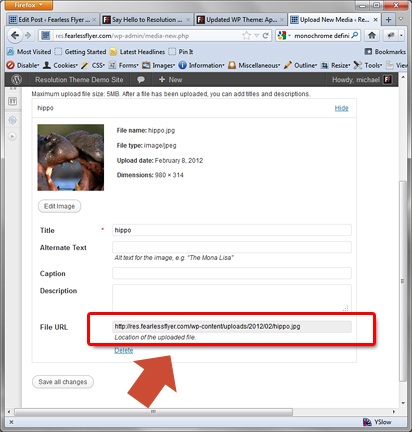 Once uploaded, copy the value in the field "File URL" (shown above). Then go to Appearance > Resolution Options and paste the url in the Image Url field: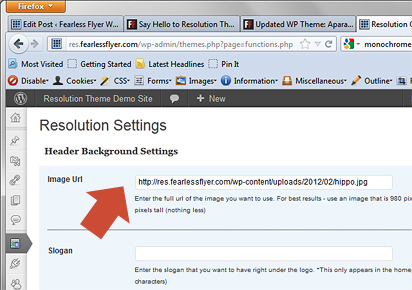 Click "Save Changes" and see your changes.
Customize the Header Slogan:
The slogan right below the logo can be customized through the options panel. Simply go to the Appearance > Resolution Options and enter your desired text in the field that says "Slogan".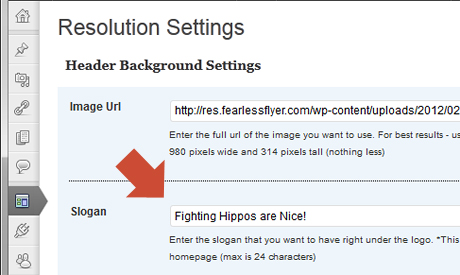 Note that the slogan is only shown in the homepage – where the header is extended. Also, there's a 24 character limit.
Change the Footer Text
The footer text right underneath the small logo in the footer area can also be changed through the control panel.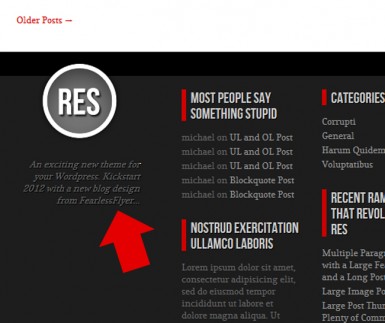 To edit, go to Appearance > Resolution Options and enter a value in "Footer Text".