>
>

Check out these 8 Websites That Make Logos For Free!
Check out these 8 Websites That Make Logos For Free!
These 8 awesome websites that will make your next business logo – absolutely free:
Impressing your clients is important when building a presenting your business professionally. In order to make your products and services known to people, you need to create a brand that can speak to the public. And what better way to do this than using a well designed logo. Let's not bother trying to create one (for those of us who are not creatively inclined). So it is good to know that there are websites out there that can help you with this task. And best of all, it's free!
Although, most of these websites will have some kind of a limit on the number of logos you can have for free, it is still good to try them out. After all, chances are you will only need one (or two at the most). So what do you say?
First on the list, and probably the newest in the lineup – Canva. Their claim of setting you up with a logo seems firm and promising. Once logged in, a clear path on which style you want your logo in, as well as easy to use interface is all part of the package. They have different plans for pricing, as well as variations for the type of community you're coming from.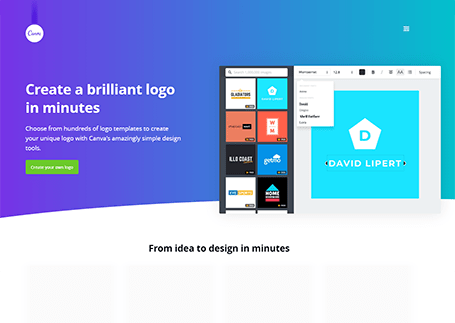 Logaster is online logo generator which allows you to create a good logo in a few minutes for free. All you need is to enter a name and add a business type. The service generates dozens of logo concepts to choose from. You are free to to edit or download as is. Logaster supports popular image formats such as PNG, PDF, SVG, and of course, JPEG. Note that creating a beautiful logo is as simple as a few steps. It's aim is for anyone without designs skills whatsoever to be able to create a professional logo.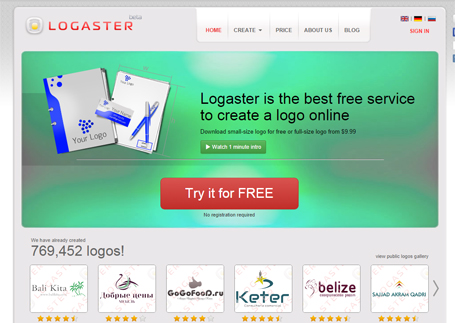 State of the art editing tools are also available with Logaster. You can easily change all of your logos style including colors, text and positioning. In addition, you can use icons and fonts that are in their database OR you can upload your own.
This website offers users about 10,000 professionally designed images that can be best suited for their blog or own website. There are design tools that are available that you can use in order to create your own design by changing font color and size and edit the texts. All it takes is to download the logo you created from the site and you can instantly have a free web-ready logo to use on your blogs.
The best thing about the website free logo creation designs is that the images are unique and are specially created by professional logo designers. Who would notice that your blog's logo is only made for free? The caveat is you are only entitled to 6 free logo designs but may opt to create a high resolution logo version for a fee.
A new player in the market of Logo Designs. DesignEvo has one of the better templates I've seen. Complete with drag and drop, typography, color shemes, shapes – just about all of the tools you need for a good logo.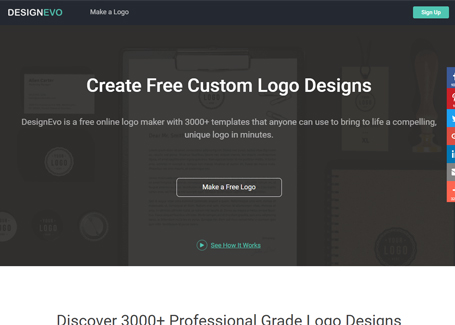 No membership required for a basic low resolution version – but if you need a better one – you need to create an account.
This website offers logo designing tools that allow the users to create a professional looking logo for free within minutes. The steps involved in creating logo designs are very straightforward. Although you are creating sophisticated designed logos, you will not need any technical skills in logo designing to be able to create one.
With all the basic logo creation tools that you need available from the site, you will certainly find the website to be very user friendly to those aspiring to have their professional logo to use on their blog or business websites without the extra costs.
If you are looking for a website that offers you to create free logos that you can design yourself without any other form of assistance, this website is certainly a best option for you. The site allows its users to design their own logos with control over the whole process of designing and creating their design. There are over 20,000 design elements available to create your own professional logo design for free.
You can enjoy more customization options and the process does not require any designing experience. Its do-it-yourself software will give you more liberty of creating the most suitable logo for your blog without making it hard on your part because of your lack of technical know-how in logo creation and designing.
If you prefer to optimize your logo design with flash animation, using the animated logo designing tool of Free Flash Logos offers you a good option. You can create wonderful animated flash header bars for free from the site. There are varieties of flash banners that are customizable and make them fit to your own preferences and choice.
It only takes two simple steps such as editing the logo title texts and then the logo slogan texts as you start designing them in the designing tools available on the site and your flash animated logo is now ready for your blog site.
This website is well-acclaimed for the growing numbers of completely satisfied customers who take advantage of their free logo making services. Creating a good logo takes only a few simple steps that you can finish within minutes. About thousands of highly satisfied web users are using the logo creation tool from the site every week.
Their services offer both free and paid logo designs that you can download either for a fee or for free. With its large number of growing customers, this website is worth trying to create a state of the art, professional logo for your blog or business website without the extra costs on your end.