Add Items to the Content Slider (Slider Items)
The content slider in the home page template uses custom post types for easy customization. Custom post types are no different than posts – except they are not allowed to mix with the posts. This means that you won't see them in the regular posts section. Our custom post type is called "Slider Item".
Create a New Slider Item
In the left hand menu, you will see under "Slider Items" > "Add New". This will bring up the "Add New Post" page.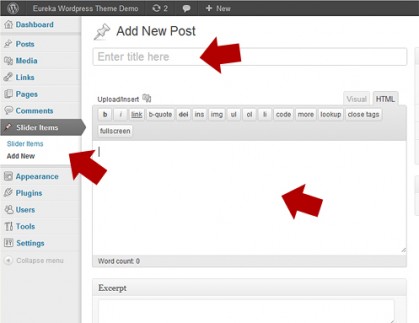 Simply add a title – this will be the title that will show up in the slider item. Add your content – note that only a small excerpt will be shown in the content slider due to spacing issues. Lastly – add a "Featured Image" to your slider item (a tutorial on how to do this can be found here).
Publish the Slider Item and view the page. A screenshot of Eureka is shown below:
Once the title is clicked, will lead to below:
Here is what Blue Slider items look like:
The Rotary theme looks a lot different:
Theme Specifications
Continue reading below to find specifications that is unique to each theme. For instance, although they all use custom post types – some of them have limits on how many can show in the page etc.
Eureka
For best results, use a feature image that is 380 pixels in width and 500 pixels in height. Use a .png image with transparent background. Also, you can assign a call to action button for each slider item. This will have to be created using custom fields. To learn more about custom fields, read this article. The keys to use are:
buttonText – this is the text you want in the button
buttonUrl – this is the url you want for the button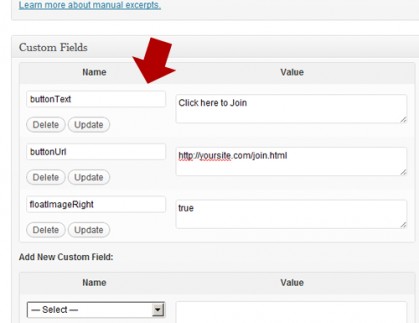 You can also have the feature image float to the right, instead of the default – which is left. To do this – just enter key "floatImageRight" and value "true" (see above screenshot).
Blue
Blue Theme can only support 3 slider items. This is due to the front page layout – only 3 items will be visible in the bar right under the slider. The sort order of the slider is also reversed in the Blue Theme. You should also use .png image with transparent background. There is no real image dimension restriction – but keep it within 500 pixels wide and 300 pixels high.
Rotary
The actual custom post type name is "Roundabouts". The limit is 5 – due to the way the carousel is built. The images will resize automatically, although for best results, you want to use images that are 586 pixels wide and 360 pixels high.
404 Errors
Due to custom post types, the theme will create a custom post slug for the slider items. You may experience some 404 errors when you try to view the post type. This can easily be fixed by going to the admin panel > Settings > Permalinks and click on "Save Changes". Note that you don't have to change anything – simply press Save Changes.