>
>

20 Supermarket Websites for your Inspiration
20 Supermarket Websites for your Inspiration
Someday in your design career you may have to come up with a brilliant layout for a client who wants a website for his string of supermarkets. I've always come to the traditional practice of "seeing what the competition is doing", in order to paint a better picture of what to do. "Get inspired" so to speak. Well here's a list of 20 supermarket websites I've rounded up for you.
Also, here is a marketing agency that specializes in retail marketing.
Note that not all of the following sites may leave you breathless, but I hope that they will inspire you nevertheless. Enjoy.
This one is first for a reason. Walgreens obviously have a very creative team behind their website: from the buttons, navigation, choice of fonts – they all simply tie together. Be sure to check out the product slider in the home page.
There's something about this website that appeals to me. Maybe it's the real time Twitter feed in the home page, or maybe it's the massive drop down list in the main navigation.
Target always had major headlines in regards to the beautiful branding of their store. The same goes for their website – simple, elegant and classic.
Nothing too fancy going on with the Whole Foods website. All elements are well intact, beautiful spacing, and well coordinated.
You gotta love that mix of bright and dark greens. The Fresh and Easy website absolutely stayed true to their company colors. Be sure to notice the product review marquee in the header.
One of my favorites, the Hy-Vee website is clean, easy to navigate and has a very timeless design (much like Target).
Another simple and elegant design, the HEB website is sleek and sharp with subtle hints of modernity.
One web wonder: the Safeway website definitely ranks amongst my top picks. I love the play of colors – browns and dark reds, the mixture of different font sizes (from very large to super small), as well as professional use of icons throughout the pages.
It is quite refreshing to see to see Kroger's color scheme. I like the combination of blues and fades – gives the site that current and stylish feel.
Though technically not a supermarket (more of a brand), Ahold has one of the more astonishing website I've seen to date. What I especially liked: the typography. Simply beautiful.
May not be the most spectacular amongst this list, the Win Dixie website has the more traditional elements of a fundamental supermarket website.
Definitely not ordinary – Giant Eagle Market District's website has a style of its own.
You gotta fall in love with the Foodzie website. From their original color schema, watercolor backgrounds, custom icons and beautiful typography – this website screams "amazing".
---
Tech Tip : Load your programming tools, IDEs or intensive graphic applications on the cloud & access it on your remotely accessible citrix xendesktop from CloudDesktopOnline with affordable xendesktop cost. Looking for a dedicated server? Rent a gpu dedicated server from Apps4Rent with 24*7*365 days live migration & tech-support.
---
The Lava Lake Lamb website itself is simple and straightforward – bringing out their amazing photography all the more.
The Straub's website is very original – from the custom background to the classy fonts. Check out their introductory page with a dual slideshow of their content.
Far from being fancy – the Frog Hollow Farm's website is clean and minimal.
Even though the pages are riddled with content, Save Mart's website is very organized. Here you will find coupons, locations, store specials, recipes – plenty of information that is presented wisely and logically.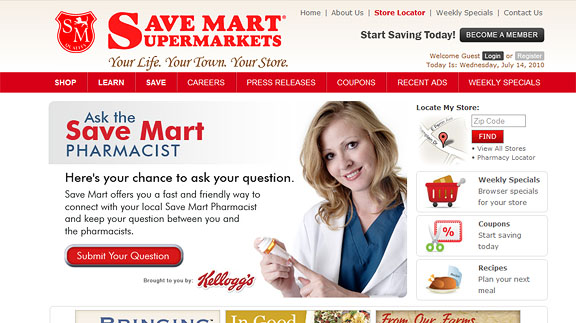 Though the different backgrounds may use a little subtleness, the Vallarta website is quite welcoming. Photos of staff, their stores and products – you really get the true feeling of being inside their markets.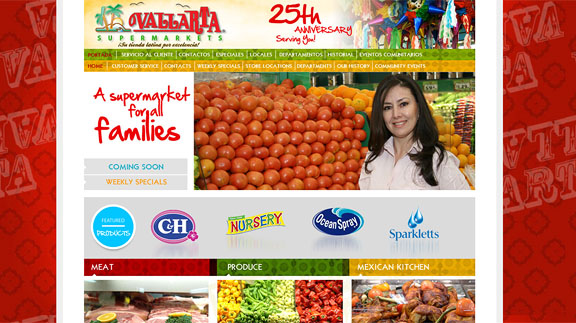 Real out of the ordinary, the Trader Joes website is filled with handwritten elements, grungy splashes, and custom icons. Check out their fully animated flash header.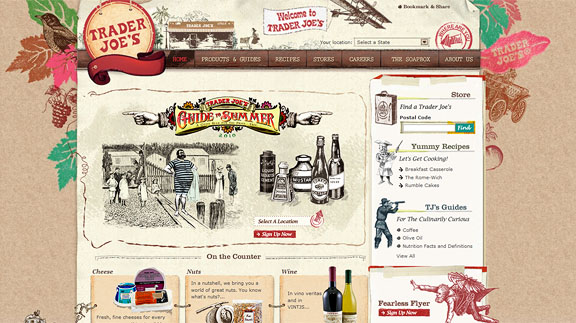 Another brightly themed website: C-Town Supermarkets is quite a sight. I especially like the nice flash feature in the home page – including a product hover / slider in the bottom.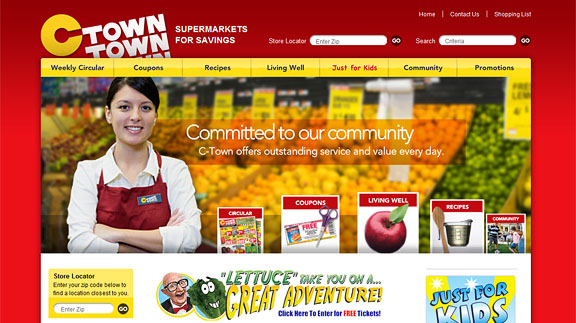 Conclusion
So what do you think? Notice the similarities? The differences? What do you think is an important factor in Supermarket websites: is it the store locator? Coupons? Specials? Also, notice that not all of them have the capability of online store – do you think this is even important?
I look forward to your comments. Please feel free to leave them below. Lastly, if you think I left out any sites – please let me know as well.